Neat-O Letter N Crafts For Toddlers And Preschoolers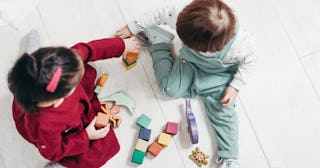 cottonbro/Pexels
If you've got a child between the ages of three and five, they're probably showing an interest in learning their letters. They may even be ready to read. That can feel a little scary. But it's no different than teaching your child to walk, talk, or use a toilet (OK, that one isn't always so straightforward!). You are your child's first teacher and whether you believe it or not, you're totally capable. If turning to Pinterest for ideas feels overwhelming, we've got you covered. Learning really can be all fun and games (well…mostly). Check out our collection of easy letter N crafts below. If you're in need of simple activities to teach the rest of the alphabet, take a peek at our letters A, B, C, D, E, F, G, H, I, J, L, and M activity pages too!
Arts and crafts are an awesome way to offer toddlers and preschoolers the opportunity to learn their letters while providing a hands-on experience. In this article, you'll find fun and easy letter N crafts you can do with inexpensive supplies you probably already have — construction paper, scissors, glue, markers, and so forth.
Let's get started.
Easy Letter N Crafts for Toddlers and Preschoolers
1. N Is For Night — All Kids Network
N is for night in this super simple 2-minute tutorial from All Kids Network. You've likely got all you need in your art cabinet to complete this easy letter N activity today.
2. Bird's Nest — Creative Craft Box
Nests start with N and in this YouTube video, Creative Craft Box is showing you and your kids how to make a cozy paper habitat any bird would love.
3. How to Make a Nest — Kids Activities
Nests seem to be a popular letter N activity. And why not? They're so much fun to craft! Here's another how-to from the popular blog and YouTube channel, Kids Activities. Check it out here.
4. The Letter N Song — Netflix Jr.
Storybots on Netflix is a kid favorite…and for good reason. They're cute and sing catchy songs. Here's one all about the letter N. Have your kids watch and then draw as many items that start with the letter N as they can. Then, they can color their picture and hang them on the fridge.
5. How to Draw a Nurse — Art For Kids Hub
Here's a tutorial on how to draw a nurse from Art For Kids Hub on YouTube. This is the perfect segway to a discussion on community helpers. Reading and social studies all in one — score! When you're finished, take some tasty treats to your doctor's office and show all of the wonderful healthcare workers there how much you appreciate their hard work.
6. Noodle Necklace — Love That Bug
Here's a fun, hands-on craft for toddlers and preschoolers you'll love — noodle necklaces! You definitely don't need to dye the noodles, but if you want to want to add some color, that's definitely the way to go. Check out the tutorial below.
7. Sing and Learn the Letter N — Jack Hartmann Kids Music Channel
Singing and dancing are definitely forms of art and on Jack Hartmann's YouTube channel for kids, that's exactly what you'll find. Get your little learners up and grooving. Then, sit them down at the table and break out the box of crayons and some blank paper so they can practice writing the letter N with all the colors of the rainbow.
8. Origami Ninja Star —Art For Kids Hub
If your kiddos love all things ninja, look no further. Art For Kids Hub has an awesome origami tutorial showing your kids how to make a cool paper throwing star that they can toss around indoors without breaking any knick-knacks (though, since minimalism is a thing now… does anyone even have any knick-knacks anymore?).
9. Build a Bird's Nest — SensoryTrust
You never know when a displaced baby bird may need your little one's help! Build the ultimate and cozy nest using a small fruit basket container. You can even squeeze in some quality time with your kiddo by going on a nature hike to collect dry grass, twigs, and leaves. Then layer them in a circle so that it looks like a spiral when you finish.
10. Noodles N
Linguine isn't just for your pasta. Cut out the letter N, and then have your child add color and flavor to it using different colored noodles. Pasta comes in tons of shapes and colors, so encourage them to make theirs as wacky as they can. When they finish — and the glue has dried — cut around the noodles. Now their N is more noodle than paper!
11. Night Sky Art
Create a night sky using pastel crayons! Start by using a white crayon to cover a blank piece of paper (this may seem redundant, but it's an important step). Next, cover the white with a black pastel crayon. Using a toothpick, etch out designs and symbols to light up your paper's night sky. Layering the black over the white will allow you to carve out beautiful stars and comets. Or, if you want to skip the white pastel step, you can follow the steps of the tutorial below.
This article was originally published on