Outstanding Letter O Crafts For Toddlers And Preschoolers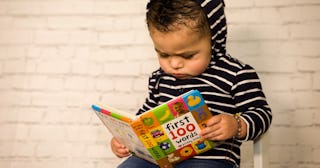 i410hlr/Pixabay
The three Rs — reading, writing, and (a)rithmetic — are some of the most important academic skills our kids will learn. These skills are the building blocks by which we learn everything else. We begin by teaching our kids to count and sing their ABCs. Eventually, they realize the alphabet song is more than just a catchy tune. They start to understand that letters are symbols, each with a unique sound, and those symbols make up the words that we speak and write. If your little one is starting to recognize their letters and you want ideas for hands-on activities and games to encourage their learning process, we've got some letter O crafts to help you out. When you finish these, be sure to check out our letter A, B, C, D, E, F, G, H, I, J, L, M, and N craft pages too.
Learning to read isn't always easy, but with the help and attention of caregivers both at home and at school, your kid will be a pro in no time. Creating a literacy-rich home is important when fostering this necessary skill. You can do this by reading to your kids every day, conversing with them early and often (even when they can't talk back!), and pointing out letters in everyday life. The more words kids are exposed to before the age of five, the bigger their vocabulary will be… and the easier it will be for them to learn to read.
Letter O Crafts for Toddlers and Preschoolers
1. O Is for Octopus — All Kids Network
We moms need eight arms on any given day to keep up with the kids, the house, work, and all the other tasks we juggle. Ever wish you were an octopus? We wouldn't blame you! Sadly, we only get two arms. However, if your kids like sea creatures with eight tentacles, check out this cute craft from All Kids Network on YouTube.
2. Letter O Owl Craft — Creative Craft Box
"Hoot! Hoot!" says the owl. If your kids have ever wished for night vision, here's a good animal to craft to try out. Learn about the letter O with this cute paper owl from Creative Craft Box below.
3. How to Craft a Paper Octopus — Kids Activities
Another octopus craft, comin' at ya! YouTube channel and popular parenting site, Kids Activities, has a fun tutorial for crafting an octopus made with only a few basic supplies. This easy how-to is just right for keeping kids busy on a rainy afternoon.
4. O Is for Ocean — All Kids Network
Do you dream of summer days spent on the beach? Us too! If you've got ocean on the brain, check out this "O is for Ocean" how-to from All Kids Network.
5. Learn All About the Letter O — HooplaKidz
Learn all about the letter O by watching this fun animated video by HooplaKidz. The catchy tune ensures you'll never forget the song. Then, have your kids grab the crayons and paper and draw as many O words as they can remember.
6. How to Draw a Coral Reef — Art for Kids Hub
If you've got kids fascinated by the ocean, check out this underwater creation by Art For Kids Hub. They'll love this coral reef drawing tutorial on YouTube.
7. How to Fold an Origami Owl — Art for Kids Hub
Owls are such fascinating creatures. Did you know there are over 200 species of them? We sure didn't! Check out this origami owl tutorial made easy for kids by Art For Kids Hub.
8. Brown Paper Bag Owls
If you stare at a paper bag from a certain angle, it sort of looks like an owl! Flip the brown paper bag upside down so you're working with the bottom. You're also going to need enormous googly eyes and orange construction paper for the beak. When you fold the paper owl, make sure the triangular fold on the bottom of the bag is part of the face.
9. Ocean of Orange Collage
Make a collage of everything orange. This is a great way to teach your child colors and about the letter "o." So break out a magazine, cut out everything orange, and glue them to a large piece of construction paper. It can be a sunset, tangerines, carrots, or anything else that catches their eye. After the collage is complete, go through each item.
10. Let's Learn About The Letter O — Jack Hartmann
Here's a groovy music video by Jack Hartmann that will get your kids up and on their feet. When they've gotten their wiggles out, have them sit down and practice writing their letter O on white paper with different color markers. When they're done, you'll have a rainbow letter page, perfect for hanging on the fridge!
11. Ostrich Sculpture
Ostriches are funny-looking creatures and are just as fun to make! First, you'll need a pinecone, pink or white pipe cleaners, white straws, and a pink cotton ball. Use the pipe cleaners as a neck and the pine cone as the body. Cut the straw in half for the legs and make sure everything's attached to the pinecone. Once everything is dry, paste googly eyes on the cotton ball, and for the beak, cut a short piece of the straw and color it orange.
This article was originally published on