Royally Awesome Letter Q Crafts For Your Young Queens And Kings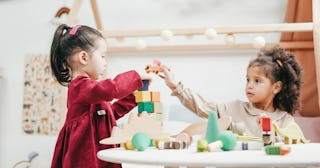 Cottonbro/Pexels
Learning the alphabet is an important academic skill for kids between the ages of three and five. Parents and teachers can facilitate this skill by providing guided activities that encourage the recognition of letter names and sounds. Of course, kids will be kids, so picking the right (and fun) activity is key. So with that in mind, we went ahead and rounded up the most imaginative, easy, and entertaining letter Q crafts perfect for both at home and in the classroom. When you've completed these activities, be sure to check out our letter A, B, C, D, E, F, G, H, I, J, L, M, N, O, and P pages too.
If you want to learn how to create a literacy-rich environment at home, here are a few ideas to get you started.
Create a bedtime ritual that includes reading every night — bath, books, bed. When you make it a habit, it becomes a treasured part of your evening routine you won't want to skip.
Take a "letter walk" around the neighborhood. Look for objects that begin with your letter of choice. You can even let your child take pictures, have them printed, and create a collage with your "letter walk" finds. This is a fun, hands-on way to help reinforce pre-reading skills through play.
Play hopscotch with the alphabet. To do this, write a different letter in each box and have your child call out the letters as they hop along. Too hot, cold, or rainy? No problem! It's super simple to make a hopscotch course indoors with masking tape from the dollar store.
Get foam letters for bath time. Foam letters are an inexpensive, but valuable teaching tool. While you help your little one suds up each night, practice spelling different words on the side of the tub.
By incorporating letter learning into your everyday routine, your child will be a reading pro in no time!
Check out our collection of easy letter Q crafts you and your little one can do at home.
Letter Q Crafts for Toddlers and Preschoolers
1. Q Is for Queen — All Kids Network
Here's a super short how-to video from All Kids Network on turning the letter Q into a picture fit for a queen — perfect for your young royal.
2. How to Draw a King And Queen — Art for Kids Hub
Speaking of royalty, this father-son duo on YouTube has a fun tutorial teaching families how to draw a king and queen! What a majestic way to supplement a lesson on the letter Q.
3. How to Make a Paper Roll Quail — Easy Kids Crafts
If you've got a bird lover, here's a cute quail craft you can do with recycled paper rolls. It's a pretty "fly" way to spend an afternoon, IMHO.
4. The Letter Q Song — Jack Hartmann
In this catchy music video, Jack Hartmann sings all about the letter Q. Let your little one dance along. When they've gotten their wiggles out, hand them construction paper and crayons and let them practice writing the letter Q in all different colors and sizes!
5. Ducks Say "Quack!" — Draw So Cute
The YouTube channel, Draw So Cute, has an adorable duck drawing tutorial. When teaching your kids about the letter Q, this is a fun way to supplement their learning. After you're finished, head to the pond and let them feed the ducks.
6. DIY Duck Call — TheDadLab
While learning all about the "quack, quack, quack" of ducks, be sure to include this DIY duck call craft project from TheDadLab in your lesson plan. Your kids will be quacking right along with the ducks at the pond.
7. Q-Tip Activities for Preschoolers — The Purple Alphabet
Q-Tip painting is a hands-on, inexpensive activity for toddlers and preschoolers. The Purple Alphabet on YouTube has taken it a step further and compiled a ton of activities that can be done with cotton swabs! Check 'em out below.
8. A Queen's Crown
Let your little one shine some light on the queens in their lives. Help them create a crown using yellow construction paper, glitter, rhinestones, and plastic gems. When they finish decorating their royal diadem, glue the ends of the paper together so it can rest on a person's head. Then have them give it to their mothers, grandmothers, teachers, or even a neighbor! It's a sweet and creative way to show appreciation for the women, AKA the queens, in their lives.
9. Quilt Collage
This is one quilt that won't require any needles! Grab some old clothes your child has outgrown and cut them into large squares. Once you have about nine squares, poke two to three holes on each side. Then use thick and colorful yarn or fleece rag strips to weave the pieces together. Once everything is connected, decorate the quilt using markers, stickers, and other snazzy add ons to help make your quilt one of a kind. Or, if you feel comfortable doing some light sewing around your little ones, try the easy rag quilt tutorial below.
More Ideas for Q Crafts
10. Quarter Stamps
You may have to sacrifice a dollar or two for this project. One of the cool things about quarters is they have different designs based on states. So, search your pockets for a variety, grab a few plastic cups, and hot glue a quarter to the bottom of each one. Then lay out a blank piece of construction paper and paint. Dip the cup into the paint and create a masterpiece using the quarters' prints.
This article was originally published on