The Ultimate List Of Uber-Cool Letter U Crafts For Your Little Learners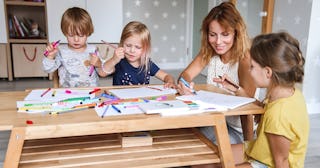 Cavan Images/Getty Images
If you've got a budding reader at home, you know that letter learning is a crucial first step. Arts and crafts are an excellent way to teach the alphabet. They encourage creativity, provide a hands-on sensory experience, and offer young kids the opportunity to practice necessary fine motor skills. Today, we've got a roundup of letter U crafts to get you started. And if you need more educational craft inspiration, you can also check out our list of letter A, B, C, D, E, F, G, H, I, J, L, M, N, O, P, Q, R, S, and T activity pages.
Maybe you're looking to supplement your child's preschool or kindergarten learning at home. Or perhaps you've decided to homeschool. Either way, Scary Mommy has you covered. We're building out a resource library full of craft roundups, coloring pages, and more. Keep checking back to see what else we've got up our — proverbial — sleeve!
Up now? Here are 10 letter U crafts perfect for toddlers and preschoolers.
Easy Letter U Crafts for Toddlers and Preschoolers
1. U Is for Unicorn — All Kids Network
The word unicorn literally means "one horn". How's that for an easy U word? Entertain your kids with this fun unicorn craft by All Kids Network on YouTube.
2. How to Make a Paper Umbrella — Maple Leaf Learning Playhouse
Rain, rain, go away. Come again some other day. If the lyrics from this nostalgic children's song bring back happy memories, take some time to teach your kids all about the letter U with this paper umbrella craft from Maple Leaf Learning Playhouse.
3. The Ugly Duckling — Little Readers
Did you read The Ugly Duckling as a child? In this story, we learn not to judge a book by its cover, both literally and figuratively speaking. Listen and read along as Little Readers narrates this childhood classic. When you finish reading, have your child draw a picture showing the "ugly duckling" after he grows up and turns into a beautiful swan.
4. How to Draw a Unicorn — Art for Kids Hub
Kids love unicorns — and why not? They are mythical creatures thought to represent innocence, purity, freedom, and power. Pretty incredible! Check out this unicorn drawing tutorial from Art For Kids Hub below.
5. The Letter U Song — ABC Mouse
Sing and dance along with ABC Mouse as you learn all about the letter U. When the video is over, sit down with your little one and draw your favorite objects that start with U.
6. Underwater Adventure — National Geographic Kids
This "ocean in a bottle" activity by National Geographic Kids is perfect for learning about the letter U — under the sea. Plus, it's a fantastic sensory activity too!
7. How to Draw a Unicorn — Draw So Cute
Drawing offers the opportunity to practice fine motor skills, engage the imagination, and learn all about colors and shapes. This unicorn how-to video makes a wonderful companion to your letter lesson plans.
8. Narwhals: Unicorns of the Seas — SciShow Kids
Narwhals are nature's real-life unicorns. Learn all about these cool marine mammals in this fun video by SciShow Kids. When you finish watching the video, have your kids draw their very own narwhal to hang on the fridge. And, hey, here's a fun fact to share to get your little artist pumped: Only male narwhals grow long tusks that look like unicorn horns!
9. The Umbrella Dance — Laurie Berkner Band
Do a little rain dance — or rather, umbrella dance — with the Laurie Berkner Band on YouTube. When you're through, have your little one paint a picture of their favorite rainy day activity.
10. Under the Sea — SciShow Kids
Take a deep dive under the sea when learning about the letter U with this hands-on activity from SciShow Kids.
More Easy Letter U Crafts for Toddlers and Preschoolers
11. Umbrella Art
Now that your kiddo knows how to make a paper umbrella (see #2 above), here's their chance to make an umbrella creation of their own. Give them paint and a white umbrella for their canvas. These umbrellas aren't best for walking in the rain, but if you shine a light behind them, they'll make for some beautiful shadow art.
12. Homemade Unicorn Horn
Unicorns are unique because of their horns, so help your kiddo create their own. Wrap a piece of construction paper into a cone-like shape, then tape it together so it doesn't come undone. Decorate the cone with glitter, stickers, foil, and anything else that adds a personal touch. Once everything is dry, make two hole punches on each side of the base of the horn. Tie a ribbon to each hole, and when your little one is ready to be a unicorn, tie it to their head.
13. UFO Plate
Spark some alien interest in your child and teach them how to make their very own UFO. You'll need a paper plate, glue, scissors, construction paper, and a clear plastic cup. Cut a circle in the center of the paper plate about the size of the cup's diameter. Then glue another plate to the bottom of that plate. Line the hole's edge with glue and place the plastic cup upside down into the hole. Once everything has dried, paint your paper spacecraft silver or another metallic color.
14. The Upsidedown
Create an upside world. Have your child draw cutouts of people, animals, objects, and whatever else they want to include in their collage. Once they've drawn all their characters and items, glue them on a blank piece of construction paper upside down. After they're done with their wonky upside-down canvas, hang it up.
This article was originally published on