Dear Son: I'm Letting You Go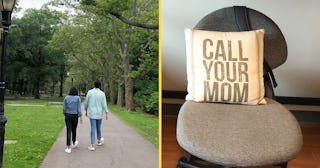 Courtesy of Crissy Schiro
A mama's heart isn't made for days like this.
I'm letting you go today, like we planned, like we wanted, like we hoped for so many years ago when we first found out you were coming into our lives.
And the past few months, as I've watched you pack your bags and make plans with your new friends and countdown the time until this day was finally here, so many memories have rushed back that I can see and feel so clearly.
Like how your fingers wrapped perfectly around my pinky as we crossed the street or walked to the park; like the many nights we would sit by the window waiting for Dad to come home so you could pretend to drive his car (and stick all the quarters in his CD player). Like when your three-year-old self was so mad you called me "stupid old lady," and then immediately felt awful about it so you ran into my arms, sobbing. Like how I would sit in the doorway of your room and watch Dad lay beside you in bed and read you Harry Potter and Deltora Quest. Like all the days I spent listening to you sing at the top of your lungs while you played video games with your friends.
I remember how saying goodnight to you changed from cuddling in bed and not being able to leave for hours, to tucking you in and leaving the lights on, to a quick peck on the cheek and a "goodnight, Mama," to having to crack your door open and peek in to make sure your Netflix was off and you were just safe at home.
It's the strangest thing to leave you today and wish so much that you won't ever live with us again, that you'll only be a visitor — because that will mean that your dreams are coming true. I've loved you before you were ever here on Earth, I'll love you for so much longer because forever you have been a part of me ….. forever you will be a part of me.
My advice for you:
– Rise. Rise every morning with the sun, even when the night has seemed so dark and scary, rise up against every challenge and heartache you meet, rise above those who try to knock you down.
– Love. Seek out people who will love you for exactly who you are, no conditions. Love those people with everything in you and nurture those relationships. Love what you do so much that it brings you joy and gratitude every day you get to do it, and so much that it makes you want to work harder than you've ever worked before. Love yourself, always, and always remember that no one else can ever define your worth.
– Be brave. Brave enough to go after what you've wanted for so long. Brave enough to be vulnerable. Brave enough to love someone and let them love you back.
– Give grace. To yourself when you screw up or make mistakes or fail. To others when they disappoint you. To your Mom when she calls you too much. Know that there will be days that are heartbreaking, that life can be hard, and give yourself grace to hide under the covers, cry and scream and want to give up — but then remember to embrace that moment, get up and try again.
– Trust. Trust yourself enough to close your eyes and jump into opportunity, to take risks. Trust that you are strong and capable and you can do hard things. Trust that you will always have a safe place to land with those who love you.
Most of all, my wish for you is for you to know that you have everything in you to succeed at school and work and life and love and at all you have ever wanted to do, all that you will ever want to do. You are going to do great things.
And my wish for me? Is that every once in a while you'll text me a "goodnight, Mama," even if it's preceded by "Can you send me some money?" That sometimes you'll still let me peek in on you to make sure you are safe (and also that your Netflix is off). But really, mostly, my wish is that over the last 18 years our relationship has been built and has grown on love and trust and respect so that you will want to share your life and your loves with me, so that you will let me watch you start your new adventures and you will want to tell me all about them. It has been the biggest privilege and honor to raise you and hold you, and now it will be the greatest experience to see you do this on your own. You don't need me anymore and that's a beautiful, wonderful thing.
Thank you, thank you, for the last 18 years. They have really been the best of my life and I am so, so proud of you.
This article was originally published on