FYI: A Life Coach Is NOT A Therapist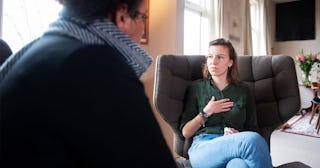 Lucy Lambriex/Getty
Adulting is hard. Varying circumstances mean some people have it harder than others, but there is no way to get through this life without difficulty. Family members, friends, and even social media personalities can offer us guidance, comfort, and support. Sometimes just talking to another human makes the hard parts feel more manageable. Problems may not be solved, but transforming thoughts into words can make them feel less big and scary.
When I was 19, I needed someone more unbiased and better equipped than a friend to help me manage my struggles so I went to an on-campus therapist. If I would have had access back then to social media as it is now, I would have seen sponsored posts on my news feeds for a life coach. There is a good chance I would have consulted one.
I have worked with coaches and mentors my whole life, and because of the shame I felt around the need to see a therapist, I probably would have been tempted to try anything but a mental health professional. I didn't see therapy as a healthy way to feel better so I could have stronger and more meaningful relationships. I focused instead on the fact that I thought I was broken and couldn't fix myself. I was never actually broken, but I needed a lot of help, and I am so glad I got it from doctors.
A life coach can be beneficial, but do not confuse their position: A life coach is not a therapist.
I have been in therapy for 21 years, and nearly 15 of those years have been with the same psychotherapist. My time spent in therapy has been supported by a psychiatrist too. I have a mental health team that supports me, pushes me, and cares for me in a way that helps me reach my goals and live my best life while learning how to make my day-to-day existence make sense based on past experiences. I trust and respect my therapists, and I highly recommend everyone see a therapist at least once in their lifetime. I expect mine to help me, even cheer me on at times, but I do not consider them coaches.
Before a therapist can be of service to a patient or client, they must complete years of education and training. They become licensed professionals with standards and a code of ethics they are required to maintain. Therapists are mental health providers who are held accountable through federal and state regulations.
Some coaches may be a part of the International Coach Federation (ICF), but a life coach does not need to meet any of the above requirements to start advertising themselves as a professional. Other than their own code of ethics, a life coach does not have to adhere to any set of rules. Nor do they have to have formal training or several degrees.
Now, I am not saying that life coaches are frauds. I don't think they are. In fact, depending on what you need or want to achieve, a life coach can be a great fit for helping you reach your personal and professional growth goals. Some coaches, like some therapists, can help reduce stress, trouble-shoot issues in your life, and give you the confidence to make changes to be a happier and more productive person. A life coach can be therapeutic, but their services are not therapy.
A therapist digs deeper and helps you understand the reasons behind your fear, panic, depression, anxiety, and relationship problems. A life coach may be able to use different tools to ease some of the discomfort, but for intensive self-care and growth to happen, you need someone more qualified to break down the different connections being made in your brain. Therapists understand how a person's past influences their present and future. They also know when to call a spade a spade and are able to give a proper diagnosis that could be used to prescribe psychiatric drugs—which should not be taboo either.
There is nothing wrong with you if you need help finding clarity. I have been on both sides of this. I was a high school rugby coach for several years, and while this is not the same as a life coach, I did offer life lessons to my players. I was their biggest fan. I was their teacher, disciplinarian, and their safe place. I was a mentor, friend, stand-in parent, and trusted confidant. But I never felt comfortable giving advice that was outside of my empathy wheelhouse. It wasn't my place to act as anyone's therapist, and it would have been irresponsible for me to attempt to do so.
A therapist, however, can also be a life coach. The relationship I have with my therapist has always been professional, but I want to make her proud too. And when she gets passionate about something I am breaking through, I feel seen and cared for. She knows the 20 years of bullshit from my childhood and early adulthood. She has the ability to not only listen, but to understand how that bullshit frames my decisions. She gives tangible and researched solutions and suggestions. She also sees through my attempts to not do the work and will adjust the game plan accordingly so I can still be successful on my journey to mental wellness.
I have no doubt that a life coach can get a person to a place of peace, organization, and focus. But there are limitations to what they can do, depending on the needs of the person who requests their services. When seeking help, the goal is to find a person you trust and feel safe to be vulnerable with.
It's important to be honest with yourself too. A life coach may be able to improve your life, but a therapist might be what you need to save it.
This article was originally published on