4 Things I Learned In The 4th Trimester
by Janelle Connor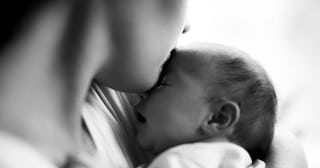 damircudic/Getty
I spent a lot of time at my grandparents' growing up. My Nan often would rest on the couch next to me, while listening to my soothing and comedic Barbie and Ken dialogue. As soon as her eyes would shut, I was right there to open them. "Don't close your eyes, Nan, I don't want to be alone."
"Oh Nellie," she'd say softly. "You're never alone … I'm right here."
It wasn't until recently I've been able to reflect back on my postpartum experience and accept a few uncomfortable truths. Although I experienced many beautiful moments during the fourth trimester, I was never the mom who relished the baby stage. In fact, during the early days of my postpartum tailspin, I began to question my new motherhood status with an entirely new level of insecurity.
Let me explain how this all unfolded and share with you how venturing into the depths of the fourth trimester brought me closer to understanding my own mental health.
During the first few weeks, life was a magical roller coaster ride. I spent a majority of my time happily cooped up inside, while enjoying countless hours watching my son sleep in my arms. During that time I felt supported, stable and thought nothing could break me … not even "witching hour."
It wasn't until the months that followed when loneliness started to creep in. I was running on three hours of broken sleep while battling a monsoon of hormonal changes. I was completely drained.
All of these factors impacted my motivation to take part in social settings. If I did spend the 4+ hours necessary to venture outside of my bubble, I would often find myself in social situations making me feel even more alone.
As my friends shared stories of their busy weekends – hopping from one fun adults-only event to the next – I felt myself drift further into a darker realm of existence. And when they did extend an invite for me to join, I quickly replied with excuses and sunk deeper into loneliness as I watched their plans unfold on social media.
What I've learned from depression, as an observer and participant, is that it feeds on loneliness. And on the outside, it is easy for people to feel offended when you start growing distant and shut them out. While you're trapped in this mental state, you lack the motivation and confidence required to put yourself out there, and the defeating thoughts make it easy to just say, "No thanks."
A self-imposed contributing factor to my postpartum mental health issues were my expectations. I truly expected everyone around me to know how I was feeling. Not just to recognize and acknowledge; rather I felt my close friends and family should be able to read my mind so I didn't need to explain how they could help.
It is really difficult to ask for help when you are in this space. And perhaps even more difficult to manage your own expectations, and to properly articulate those feelings to others.
I remember one morning when I woke from my usual fragmented sleep, and just laid there staring blankly at the ceiling, feeling completely empty. I looked over at my son, Kai, crying in his bassinet and still felt nothing.
Usually I would jump up, rock and console and quickly tend to his needs, but this time was different. I got out of bed and walked right past him. I felt completely disconnected from my inherent role as a mother.
I picked up the phone and sent my mom a text message: "Kai is crying, and I don't want to pick him up."
Within seconds she replied, "I'll be right there."
I started crying and couldn't stop. I felt like an absolute failure. What I didn't realize before having a baby is how difficult it is to ask for help.
When Mom arrived I could feel her compassion, understanding, and without judgment she selflessly took care of us. Just like mothers always do.
From my own personal journey through the highs and lows of the fourth trimester, here are a few things I learned:
1. The fourth trimester taught me how important it is to plan.
During all the other trimesters, well deserved self-care is scheduled into every day and/or week that passes. You put time and effort into mapping out the right balance of nutrients with every meal, while prioritizing self-love rituals and behaviors like taking long baths, journaling or going to brunch with a friend.
All of these things become even more important after the baby is born. However, the reality is, your life is no longer spontaneous. Achieving solo quality time requires penciling yourself in. Be ruthless with setting aside time to put yourself first – this needs to be non-negotiable.
We all know the reference of putting on your oxygen mask before helping someone else. The more you nurture and care for your own health and mental well-being, the more you'll be able to show up fully present for your family. Make a commitment to dedicating time daily or weekly with the sole intention to give back to yourself.
2. I've learned (the hard way) that setting a healthy mental framework to survive the fourth trimester starts with proper expectation management.
Sit down with your partner to discuss the reality of how life will look and feel in the fourth trimester. Even if you aren't exactly sure how things will play out, I encourage you to start this dialogue early. Check in with yourself to uncover and assess your own expectations.
This is an important preliminary first step, as these lofty expectations and Instagram-worthy postpartum dreams can be the silent killer of your mental health. Start by seeking advice from people who have been there, and let their honesty and experience reveal a fresh perspective on the postpartum journey.
3. Trust that every day will get better.
When I was struggling through the early months of motherhood, it felt as though I would be stuck there forever. Every time someone would say, "Enjoy every moment, it goes by so quickly!" I would cringe, knowing how desperately I was wishing my time away. I seriously thought I would never see my friends or sleep again.
Shortly after I had Kai, I booked myself an acupuncture appointment because I read it could help with energy, but mostly I knew I could justify it as reason to leave the house. As I laid there with needles poking out of me I felt a release of emotions, and tears started streaming down my face. When the acupuncturist came back into the room, she asked if I was mourning the loss of someone.
I was quick to judge her for making such a bold assumption as I shortly replied, "No." But then she corrected herself with, "Oh I am sorry, you must be mourning the loss of yourself."
Our eyes connected and I felt an overwhelming fear as those words deeply resonated with me. She saw the well of tears in my eyes and said, "It's okay … it is normal to lose yourself in this process. Letting go of your old self is part of stepping into your new role as a mother. It will take time, but you will find yourself again."
She was right. I was lost.
It wasn't until that moment, sharing a raw and confrontational exchange with a stranger, that I started to believe I would resurface again. The thought of one day getting back to my old self, the version I could identity with, was the beacon of light that I needed.
After that appointment, I went on to give myself frequent mind-over-matter reminders that every day would get better. And over time, this encouragement enabled me to shift my mindset to be more forgiving and loving towards myself.
4. Check in with others.
I am urging anyone reading, if someone in your life who is working through something difficult, please check in with them — whether it is going through postpartum depression or any other mental health issue. Bring them coffee. Suggest going for a walk. Make things convenient for them. Offer help without asking. Show compassion and be selflessly supportive.
Understand that the simple gift of your presence is enough for them not to feel alone. Just like my Nan always said.
This article was originally published on