How My Gynecologist Helped My 'Angry Vagina'
by Sarah Davis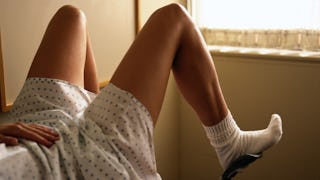 Keith Brofsky / Getty
It was a blind date, my friends set us up with glowing reviews; the best listener, highly skilled hands, and most importantly — you knew your way around a vagina.
Who knew all the pleasure you would bring me (or my husband, for that matter).
I listened as you read my cause for visit: "angry vagina," which made you chuckle. What a bonus; you even had a sense of humor.
We sat in your office discussing my current sex issues: vaginal dryness, painful penetration, low sex drive — you didn't even blink that I brought my mom.
While looking into your eyes I never would of imagined the wet and wild nights you'd bring. (You're the best, Dr. B!)
After our talk you lead me to the exam room, and my mother made her way to the waiting room. When it was just the two of us, you informed me that my vagina looked like it was 70 years old; the tissue was thin and dry. You asked if I'd looked "down there" recently, and I tried to remember when I took the last picture of my vagina. The only times I inspected my nether region was when it was angry, but I vaguely remembered saving a photo that my husband took so I could see if I had a yeast infection. Gah, she just looked angry most of the time—
Wait, what was I saying?
Oh yes, my vagina.
When reflecting on our appointment, I decided that a vagina with so many adjectives and diagnoses flying around deserved a name: Ethel. Ethel had an extreme hormone imbalance, and a muscle dysfunction called vaginismus. Making sex a f***ing mess, but not the good kind. However, your TLC has made all the difference.
You are the real MVP, Dr B.
I share all this with you to say thank you, Dr. B. Every intimate moment with my husband would not have been possible without your "Dr. Love" magic. I thank you. And most importantly, Ethel thanks you — often.
xoxo
P.S. Please don't stop being my doctor if this love is unrequited. Bonus: I'm not the least jealous of all the vagina pictures other women send you. Keep up the good work.
See you next Pap Smear!