Airbnb Suspends Listing That Wouldn't Rent To COVID-Vaccinated Guests
by Valerie Williams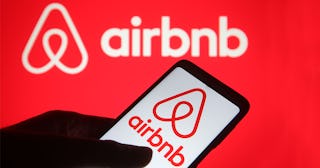 SOPA Images/Getty
Airbnb suspended a listing in Montana that refused to rent their space to people who received a COVID-19 vaccine
Life in a post-COVID vaccine world is starting to look pretty great, right? As vaccine rates go up, disease rates go down. Families are reuniting after over a year of no visits, schools are reopening, and things are truly looking up for the most part. The only problem? Anti-vaxxers all over the nation threaten our collective progress when it comes to achieving herd immunity and with it, that return to complete normalcy that we're all hoping for. The latest anti-vax lunacy? An Airbnb host in Montana who wrote in their listing that only people who hadn't received the COVID-19 vaccine were welcome. I mean, holy shit.
Journalist Charlie Warzel shared the bananas listing on Twittier. "WE ARE RESTRICTING THE CABIN TO NON-COVID VACCINATED GUESTS ONLY," the owner writes. "For the health and safety [of] not only other guests but also ourselves, all COVID vaccinated guests are asked to find another vacation rental that allows vaccinated guests."
In the listing, the property's owner states false claims about the MRNA protein in the vaccine ingredients "shedding" and passing on to unvaccinated people. This insanity has been throughly debunked with the Centers for Disease Control sharing information on why it's false but a conspiracy theorist is gonna conspiracy theory, I guess.
But Warzel wanted to ask the question that's probably on your mind right now — how would the hosts know if a potential guest is vaccinated? So he sent a message asking exactly that and got a response.
So they're going on an "honor system" and told Warzel, "If you say you haven't taken the shots we trust you and you're more than welcome here."
Warzel emphasized that he never asked to rent the property, but suspects the host may have seen his viral tweets because this was their next reply:
Ben Breit, an Airbnb spokesman, told BuzzFeed that the listing was suspended "for promoting COVID misinformation in violation of our content policy."
In speaking with BuzzFeed, Warzel seemed pretty baffled by the whole situation. "It's sort of wild, I guess," he tells the publication. "It's odd that the vectors for misinformation continue to be more and more obscure. It's not just a 60-minute video that somebody produced, or a tweet that someone wrote, but you're browsing weekend getaways in western Montana and you come across this potentially dangerous misinformation about COVID."
With social media platforms cracking down on COVID misinformation, it does seem that the conspiracy crowd has fewer outlets to spew their nonsense, and it's heartening to see Airbnb put the kibosh on just one more source of dangerous bullshit that could end in someone becoming sick or even dying.