How To Tell If You're Ready For A Relationship — And 10 Signs You Aren't
Don't feel as though you have to rush.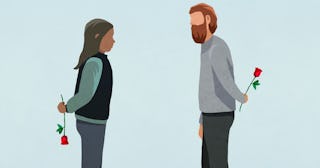 Malte Mueller/Getty Images
When it comes to dating, nothing is sexier than self-awareness. Before jumping into a new relationship or talking your casual dating partner into something more serious, though, it begs the question: Am I ready for a relationship? Answering that question honestly and vulnerably will save you a lot of time and a lot of heartbreak — especially if your goals and vision for your life aren't aligned for such a commitment right now.
So how do you know if you're ready for a relationship or not? If you need help answering that big (and incredibly complex) question, we've got your back. Keep reading for all the tips and resources you need.
Am I ready for a relationship?
If you're smart (and we know you are) and want to date smartly, then beginning a new relationship comes after doing a major self-inventory of your present, past, and future. Whether you're taking things to the next level with a new partner or dipping your toe back into the dating pool, it's imperative to know just where you're at before being in a relationship.
Human behavior and relationship expert, Dr. Patrick Wanis advises people to avoid dating immediately after a breakup. "Don't look to begin another relationship," Wanis says. "I always say the most important thing you can do is engage in complete and sincere self-awareness. Review what happened in the relationship. Even if you were stuck in a toxic relationship, if you're engaging in self-awareness, [ask yourself] how did I get into this relationship. Why did I stay in this relationship, what can I learn from this, and what is the pain I need to let go of?"
Besides it being too early to start dating again, what are some external factors that might preclude you from being truly ready for a relationship? A quick rundown might include:
Your ex still being in the picture
Crying over your ex post-breakup
You think about contacting your ex a lot
You follow their updates on social media
You see dating as an ego boost rather than anything deeper and intentional
You try to run into your ex accidentally
Everything reminds you of them
On the other hand, if you're in a good place in your life where you're ready to be seen by someone else and feel like you have the capacity (as well as the excitement) to include a relationship in your life, you might be ready to take that next step.
Where can I find an 'am I ready for a relationship' quiz?
If you were wondering whether you are ready for a relationship and want an outside opinion, we rounded up some fun and insightful relationship quizzes to help determine if you're prepared to take the next step as a singleton or with your new bae. Have fun!
BuzzFeed's Light and Fun Food-Based Quiz
This playful quiz bases its results on meal plans since everyone knows the way to someone's heart is through the stomach! All you have to do is choose your fave breakfast, snack, lunch, etc. While we can't say it's super-legit, we can say it's super-fun!
Marriage.com's Well-Rounded Quiz
Talk about getting to the heart of the matter. Marriage represents a real deal of a relationship, so this quiz must know what's up. Prepare to answer some insightful questions about yourself, including what scares you about relationships and who's your dream lover (Brad Pitt is an option). Basically, it's a good balance of silly meets substance.
Dr. Dar's Introspective Quiz for People-Pleasers, Givers, and Helpers
Touted as a quiz for "people-pleasers," this quiz promises to help you learn where you need to focus on self-love and growth as you ponder taking the next step. The questions are the type that one should be asking themselves before commitment or even casual dating. For instance, they'll challenge you to consider whether you have a clear vision of what you want in love and how self-aware and accepting of all your strengths and weaknesses you are. TBH, we legit could all stand to ask these questions when it comes to love!
What questions should you ask when you think you're ready?
Am I really ready to be in a relationship?
Am I over my ex?
Do I know what didn't work in my last relationship? Am I ready to learn from my mistakes?
What worked in my previous relationships?
What do I bring to a relationship?
Do I see myself as a positive partner for someone right now?
What do I want out of this relationship (if I'm dating someone)?
Do I see a future with this person?
Do I love and accept myself?
Does this person bring out the best in me?
Am I actually interested in this person?
Do I even want to be in a relationship?
What is their relationship with their family? And yours?
Do I like this person beyond a physical level?
Do I know this person well?
How comfortable do I feel around this person?
Do we have the same morals or values?
If we get together, is this going to be a serious or super fun relationship?
Do they share characteristics like my ex? Or do they remind me of my ex?
Would I feel comfortable introducing them to my close family and friends?
A word of advice: Don't feel as though you have to rush. Readiness is personal and individual. It requires depth and integrity, as well as trusting your own intuition. Take the time to look at your life, thinking about where you've been and where you want to go. And perhaps most importantly, be honest about whether you're in the space right now to be open to an experience as transformative as a relationship. There's no right or wrong answer — it's your answer.
This article was originally published on