There Are Now Singing 'Baby Shark' Plushes, Because Who Even Needs Sanity?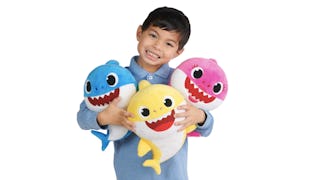 Image via Amazon
Doo-doo-doo-doo-doo-doo-doo you want to lose your mind over the holidays?
You thought real sharks were scary, but just wait.
How's your mental stability these days? And how's your holiday shopping going? Do you want to make all of your child's dreams come through, while sacrificing your own sanity? Well, we have just the toy for you.
Amazon is now offering official Baby Shark plushes, made by Wowee for Pinkfong, that play the viral YouTube hit in its entirety. For about $70, your child can own a 10-inch long Daddy, Mommy, or Baby shark and press the button over and over again until it's played more than two billion times.
It's your child's biggest dream and your worst nightmare, all in one kind of staggeringly expensive plush toy.
We know you have some questions, and we're here to help. Yes, you can get all three characters: the blue daddy, the pink mommy, and the yellow baby. Yes, the plush plays all three verses of the song without stopping — but you should also know that you can turn it off simply by pressing the shark's belly a second time.
No, the song doesn't play in Korean, as long as you order from the official shop on Amazon and stay away from third-party international dealers.
Yes, the sharks DO have an off switch — or, in desperate times, there's a velcro opening on the back of the shark that allows you to remove the speaker altogether (or remove the batteries — we're just saying that's one thing that could happen, in theory).
Luckily, early reviews of the shark family say that the sound is surprisingly quiet and a little muffled, which means it might not have to permanently live at Nana's house.
We probably don't have to tell you that even though this toy will probably be responsible for millions of migraines around the world, it's also likely going to be one of this season's most-wanted Christmas toys, and they already seem to be going fast.
If the size or the price tag of the big stuffies are too much for you, there's another option as well: smaller cube sharks that sell for $30.99. These little guys still come in all three stackable characters and still play the whole 'Baby Shark' song — but just a warning that they come with replaceable batteries and speakers that can't be removed without some major stuffed animal surgery.
Here's a commercial for the singing sharks, but we have to warn you that yes, they do play the song during the video and yes, it will get stuck in your head for the rest of the day.
As the very first reviewer, a dad, says in his candid testimonial, called, "I expected to burn it in effigy. But we're keeping it":
"Okay, I put the delight of my kid above my own sanity." He also says, "This song… get it out of my head…"
You and us, both, hero dad.
This article was originally published on