15 Best Beach Coolers To Cool Food & Drinks Even When It's Hot
We only recommend products we love and that we think you will, too. We may receive a portion of sales from products purchased from this article, which was written by our Commerce team.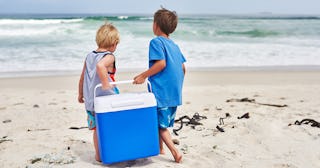 Getty Images
A beach cooler can be added to your list of essentials — alongside beach towels, healthy snacks, water shoes, boogie boards, and beach toys for keeping your water babies busy — when spending a long day at the seaside. A durable, well-insulated cooler will keep food and drinks pleasantly icy cold even when the temperatures are high and the sun is shining down relentlessly. If you're bringing along anything perishable (which you probably are, especially if you're bringing your kids), then know that it won't last long without a reliable beach cooler. However, not just any outdoor cooler will do. You'll want to look for specific features that make it optimal for dragging along the sand and sitting out in the hot summer sun.
RELATED: The Best Patio Coolers & Carts To Keep Your Rosé Extra Chilled This Summer
Some are effective and very well-made, but also heavy, bulky, and large, which makes them hard to tote through scorching hot sand. Others are made in easy, lightweight backpack form, but they're also flimsy and not insulated enough to keep things cold for more than an hour or so. What you really want in an excellent beach cooler is something that's easy to carry or drag through the sand, something that can hold up against high temps outside, and something that can withstand being beaten up by sand and saltwater (and hungry kids that tear into it every half hour because they're "starving"… but that's a lesson in hyperbole for another day).
RELATED: 11 Best Marine Coolers (And Yeti Alternatives) To Keep Your Drinks Ice Cold All Summer Long
The below beach coolers are all excellent options, whether you want something classic, something with wheels that will actually move through sand, or something you can casually throw over your shoulder. They're large enough to hold the necessities for a family, and they're versatile, too — use them in a backyard for barbecues or at the pool for the day. Here are some of the best beach coolers you can find.
Best Beach Cooler
At under $50, this Arctic Zone cooler is an excellent deal. It's made with Deep Freeze, a high-performance insulation that reflects heat instead of absorbing it to keep your items cool. It's also zipperless and uses a patented "flip open" design that gives you (and the little ones) super easy access to what's inside. The HardBody liner comes out for easy cleaning throughout and has a small shelf that's perfect for sandwiches or snacks. It can hold up to 16 cans, and while it's not huge, it's ideal for a smaller family or just one or two people. It also has a strap so you can wear it over your shoulder for easy carrying. It's easy to see why it's an Amazon favorite with over 25,000 five-star ratings.
Yeti's soft cooler lives up to its great reputation. It has a magnetic closure that folds over for easy opening, and when you're on the go, there are two buckles to keep it securely shut. The DryHide™ shell is waterproof, puncture-resistant, and UV-resistant, so it was basically made to be used by the water. The ColdCell™ insulation keeps everything super cold for hours, and it has enough space inside for 20 cans or 28 pounds of ice. It also has a carrying strap and three different carrying handles for versatility. We know it's pricey, but you really can't go wrong with a Yeti, and it's a worthwhile investment if you've got a family of beach bums.
For a sturdy, classic cooler, this Engel is a great choice and a terrific value. It doubles as both a cooler and a dry box, so it's very versatile and can be used year-round. It's leakproof, is described as "virtually indestructible," and it has two carrying handle options. If you're looking for a reliable cooler at a lower price point, this is a good one. One shopper commented, "Seals good and keeps stuff cold for quite a while. Very durable and holds up to the harsh conditions on a job site, planes, mud and in the back of the truck. Would definitely recommend this product to anybody that needs a small sized cooler or a decently sized lunch box for the job site or the boat. Five stars here."
This Igloo BMX is a super heavy-duty option that is incredibly durable and strong while still managing to be pretty lightweight. It's designed to keep ice cold for up to five days and has UV inhibitors that protect it from the sun for years. Rubberized T-grip latches lock in the cold while also making it secure and easy to open, and the handle is large and convenient. Reviewers rave about how it holds ice for days, and many compare it to higher-priced Yeti and Pelican coolers.
Pelican coolers are a favorite among outdoor enthusiasts for their incredible ice retention and insulation — this thing can keep ice cold for days. It has a large carrying handle and locking latches that make it convenient to use and tote along the beach. It also has some nice extras, like four cup holders with drainers, non-skid rubber feet, and a stainless steel bottle opener. It's not huge, but it's still spacious enough for the essentials — aka, Mom's *adult* beverages.
Beach Cooler With Wheels
Coleman coolers are a classic for a reason: they work well and they're not super pricey. Don't expect the frills and features of some more expensive coolers with this one, but that doesn't really matter if you just want something to use for the occasional beach day. At 50 quarts, this holds a lot of stuff (up to 84 cans), and it has heavy-duty wheels to drag it through sand, as well as a telescoping handle. There are four cup holders on top, which is nice to have. This one should hold ice for up to five days. One reviewer calls it the "best money I've ever spent."
This 50-quart rolling cooler is easy to tote around whether you're at the beach or not; it comes on a foldable cart, so you can use it on the wheels or without the wheels — whatever works best. It has a Therma-Flect interior radiant barrier that reflects heat instead of absorbing it to keep things cool for hours. You'll also love how the leakproof lining is easy to clean.
Versatile and easy to store, this Arctic Zone cooler comes on a removable cart that is expandable and can carry up to 100 pounds — it can also fold pretty flat. The triple layer ColdBlock base is super insulated and the exterior is water- and stain-resistant. It also has tons of pockets on the front and sides so that you can store other items as well.
The Haul is the first Yeti on wheels, which makes these legendary coolers even better. The wheels are impact- and puncture-resistant to get you through the sand, while the aluminum arm offers a comfortable grip. The Permafrost insulation keeps ice cool for days. Keep in mind that this is a heavy-duty cooler that can be super heavy once it's packed, but that's what makes the wheels so convenient. One shopper reported, "This thing is a workhorse!! Of course I was hesitant to purchase because of the price tag but after years of buying what I thought to be decent coolers and having to replace them within a year or two, I thought, why not?! Well, I've been using the cooler pretty much nonstop since Memorial Day weekend and it has exceeded my expectations."
This large cooler holds a ton of stuff and is great for bigger families or a long day at the beach where the fam will be enjoying multiple meals and snack breaks. The horizontal telescoping handle and heavy-duty wheels make it easy to pull this through the sand, even when it's fully stocked. There aren't a lot of frills and features, but this is a great bigger option. One shopper commented, "Should have bought years ago. I have a bad back but this thing is so easy to pull with it's long handles."
Beach Cooler Bag
If you want a small cooler rather than something big and bulky, it's hard to do better than this IceMule. It's a lightweight, backpack-style cooler with a soft side that makes it comfortable to wear. It holds 10 liters or six cans, so it's a decent size, and it has a roll-top that opens wide so you can easily access everything you're storing. It's leakproof, buoyant, and waterproof, so don't worry about having it near the water. It's also designed to maintain ice-like temperatures for two days.
Convenient, lightweight, and versatile, this soft Hydro Flask cooler is more like a tote than a huge cooler. The soft material makes it easy to fold and store, so it's a great cooler to take when traveling. It's also impressively insulated: it will keep contents cool for about 4 hours. It's easy to clean, well-made, and functional. And the bright colors are fun!
The soft Maelstrom collapsible cooler is a great tote-like option that holds up to 75 cans — yet weights less than two pounds. This pick features a zippered main compartment to keep in the cold and can keep food or drinks cold for up to 12 hours. Made of ripstop Oxford fabric with five layers of insulation, this lightweight tote is leakproof, waterproof, and tear-resistant.
Backpack coolers are incredibly convenient, but many of them aren't super insulated or roomy. This Yeti is an exception. While the outside is comfortable enough to wear, the inside is a hardshell cooler with cold cell insulation to keep everything chilled for hours. It also has the toughest waterproof and leakproof zipper in the world, so it can withstand the elements, no matter what you encounter.
If you like the idea of a backpack cooler but you don't want to spend $300, this Tourit is an excellent alternative. This one is roomy and flexible because there's no hardshell cooler inside. It won't keep the contents cool quite as long as the Yeti would, but it gets the job done for a day at the beach and is super convenient to carry around. It also has a nice large pocket on the front, is leakproof, and it opens wide for easy stocking and snack access.