Here's The New LOL Surprise Stuff Your Kid Will Be Begging For
by Steph Osmanski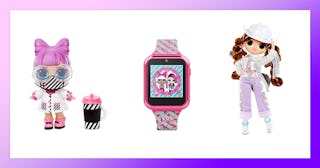 L.O.L. Surprise! / Walmart
If you're just catching onto the L.O.L. Surprise! Doll trend, welcome to Hell, Mom. Hehe — totally kidding! L.O.L. Surprise! Dolls are glittery, sparkly, imaginative play toys that have kids peeling back layer upon layer of packaging to unearth stylish surprises — glittery shoes, tiny purses, and more fun accessories that kids ages 8+ are obsessed with collecting. (We promise they're cooler than all of those singing baby shark toys.)And since we're still stuck in quarantine mode, now's the best possible time for your child to get into L.O.L.'s. Plus — L.O.L. has new holiday surprise stuff that you can start shopping for now.
Why? Because if they're bored of playing outdoors in the inflatable kiddie pool you just got them, letting them back inside to unwrap a brand-new L.O.L. will keep them busy (at least for a while). And also because there's a new Limited Edition L.O.L. Suprise! Doll who is totally with the times — Frontline Hero Doll who comes with goggles, a lab coat, and of course, a kid friendly face mask.
L.O.L. Surprise! Dolls are hot right now. In fact, Forbes reported there were 2.5 million dolls sold worldwide in 2017. And they're only getting hotter with the release of the Frontline Hero Doll, the car-pool coupe, and the Lights Glitter collection.
Our top picks for the best L.O.L. Surprise! Dolls for kids:
Best L.O.L. Surprise! Merch
Best L.O.L. Surprise! Playsets
More Cool L.O.L. Surprise! Dolls
All set on L.O.L. Surprise! Dolls? Shop more bestselling toys for kids!