10 Makeup Products That Will Survive A Day At Disney World
Because the theme park sweat situation is REAL.
by Morgan Flaherty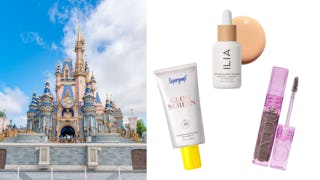 AaronP/Bauer-Griffin/Getty Images; Amazon
We may receive a portion of sales if you purchase a product through a link in this article.
The first time I visited Disney World as an adult, I was taken aback by the experience. There was so much planning involved, from budgeting for tickets and a hotel to making reservations for dining. So much went into planning that initial day that there is one thing I very much did not plan for — my makeup.
My first day in the parks since childhood was filled with magic, sweat, and so much freaking sunshine. I ended the day burned with my usual makeup dripping down my face. I was *a mess.* While I have no problem going makeup-free daily, when I'm in the parks, I usually take enough pictures with family and friends that I like to have a little something on my face.
Since that initial trip, I've visited Disney World dozens of times, both for fun and for work (I write about the Disney Parks full time through my work as a Staff Editor for WDW Magazine). And in that time, I've learned my lesson on exactly what makeup will and will not work for a full day in Disney World. I'm sharing a few of my favorite products that have survived a full day at the Most Magical Place on Earth.
1. Supergoop Glowscreen
You should be wearing sunscreen every day of your life, but in Disney World, you will truly regret it if you don't. I opt for this glowing sunscreen that not only provides SPF protection but also acts as a skin-perfecting primer with a gorgeous pearlescent finish.
2. MERIT The Minimalist Perfecting Complexion Foundation
Here's the honest truth: In Disney World, you are going to sweat your a$$ off. It doesn't matter what time of year it is — even in the colder months, you'll be walking so much that breaking a sweat is inevitable. For that reason, I like to opt for products that can be easily reapplied throughout the day. Merit's Complexion Foundation fits the bill for how natural it looks on the skin and how easy it is to throw in your park bag and reapply throughout the day where you need it.
3. ILIA Super Serum Skin Tint
If you'd prefer to get a foundation and SPF in one, you cannot go wrong with the Ilia Super Serum Skin Tint. With SPF 40, this sunscreen has a great color payoff that will easily cover up redness and any unevenness in your skin tone. When it goes on, it goes on real dewy, but don't be alarmed. Give it some time to set (plus a few swipes of finishing powder), and it will stay in place for hours. Bonus: This option allows you to easily reapply throughout the day for added sun protection.
4. Jones Road Beauty Face Pencil
Just like I want a foundation I can touch up easily throughout the day, I want the same from my concealer. For covering dark circles (which you will have from early mornings for rope drop, FYI), I adore the Jones Road Beauty Face Pencil. I wear a shade with peachy undertones meant to eliminate undereye darkness. I prefer using a cream formula versus a liquid for long days in the park because it looks more natural as it inevitably begins to sweat off during the day. While I've found liquid concealer can get a bit blotchy by EOD, the creamier formulas fare a bit better and are easier to reapply without ever looking heavy or chalky.
5. Kosas Air Brow
I don't typically do much with my brows when I'm in the parks, other than set them in place and give them a bit of a tint with the Kosas Air Brow Gel. The formula is great for setting your brows in place and keeping them there for hours. It's truly an unsung hero product that does what it needs to with no fuss.
6. Merit Clean Lash Lengthening Tubing Mascara
I've never been a huge fan of waterproof mascara, but I will fully admit I ended up regretting the first time (and only) time I wore my regular mascara to Disney World (hello, raccoon eyes). Now, I opt for tubing mascara, which is somewhere in the middle of regular mascara and waterproof. The formula creates "tubes" around each of your lashes that aren't waterproof, but I've found them to be more water-resistant than regular mascara.
7. Violette_FR Yeux Paint
Continuing with the trend of sweatproof products, let me present to you an eyeshadow that will not budge once applied. Violette_FR is a French skincare and makeup brand, and I am not exaggerating when I say they have somehow perfected formulas that will last all day.
Yeux Paint is a liquid shadow that comes in both matte and glitter finishes, so there's a shade for everyone. I like to use this all over the lid or as a liner (which is easy to do with the doe-foot applicator). No matter how many water rides you go on, or how much you enjoy drinking around the World (Showcase), this shadow will last through anything.
8. Rose Inc. Lip Cream
While I'm usually a tinted lip balm kind of gal when I know I want to take pictures at Disney World, I like to go for a more long-lasting formula. The Rose Inc. Lip Cream is my favorite matte lipstick ever. The creamy formula will last all day but never looks dry or smudge-y. My personal favorite shade is Dreamed You, which is a warm rose.
9. Summer Fridays Blush Balm Lip + Cheek Stick
For cheeks, I love this creamy sheer formula from Summer Fridays. The hydrating balm can be used on lips and cheeks, so if you're going for a more natural lip, this formula does double duty. The shade Pink Skies is my personal favorite for a vibrant pop of pink that will keep you looking refreshed all day long.
10. Saie Airset Radiant Loose Setting Powder
To finish off the look, I always apply a little bit of powder to set everything. As someone with dry skin, I usually hate the look of a finishing powder, but Saie's somehow manages to eliminate shine while still keeping your skin glowing. I don't know how they do it, but it's magic and a serious help for my shiny, sweaty face in the parks.