I Write About Disney Full-Time. Here Are 5 Things You Should Never Do.
The big things to avoid at the Most Magical Place on Earth.
by Morgan Flaherty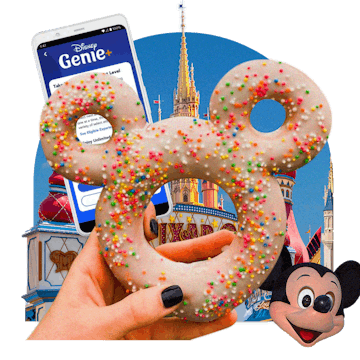 Emma Chao/Scary Mommy; Courtesy of @kelsey__steele; Getty Images
I need to make a confession: I'm a Disney adult. I know, I know. It's a term that's gotten a bad reputation, conjuring up the image of a childfree adult wandering around in a nostalgia-filled wonderland. But my love of Disney has grown with me and has even transformed into a career where I write about Disney full-time.
Over the years, I have been to Disney World dozens of times, both for work and for fun (full disclosure, I even did my honeymoon at Disney). Through that time, I have learned a lot about the best things to do to make your trip extra magical. I've also learned the opposite, i.e. what not to do.
There are, of course, set rules and general courtesies you should always follow in Disney World (please don't be the person who uses flash photography on a dark ride). While these are all important, I'm sharing the pieces of advice I make sure to give everyone visiting Disney World for the first time: advice on the absolutely nots.
Not Doing Your Research Ahead of Time
Going to Disney World involves a ton of planning. There are entire sites and industries dedicated solely to helping people plan their Disney vacations, and there's a reason for that. You're spending a small fortune on a vacation that can often be a once-in-a-lifetime trip, so it's only natural you'd want it to go perfectly.
While I would warn against hoping for a perfect outcome (having a certain amount of flexibility will make everyone happier), your trip will be much smoother if you do your research ahead of time.
Before you go to the parks, make sure you're digging into the ins and outs of Disney World. That means you'll want to make sure you're booking your dining reservations as soon as possible and planning out your Park Pass reservations to reserve your spot in the parks. You'll want to research the height requirements for rides and make sure you know which rides your kids can and cannot go on.
Familiarize yourself with things like the My Disney Experience app, which is where you'll be able to do everything from book Disney Genie+ (to "skip" the lines) to virtual queues and mobile ordering.
Believe me when I say that the worst thing you can do is get to the park and have to learn everything on the spot. While you'll always be able to find a helpful Cast Member to help answer your questions, figuring out what you need to do in advance will help your vacation be much more stress-free.
Trying to Do It All
One of the most common mistakes I've seen people make in Disney World is trying to do it all. In Disney World, you have four parks with dozens of rides, two water parks, a shopping and dining complex, and hundreds of restaurants. There is so much to do that it's near impossible to get to it all over the course of a week-long vacation.
I completely understand the temptation to do it all and have fallen victim to it myself. After all, you're spending a lot to be in Disney World; it's only natural to want to get the most out of the experience you can. However, trying to fit too much in will only result in burning yourself out.
Sit down with your group and pick out a few must-dos to make things easier. These can be restaurants you know you want to go to, characters you want to meet, or rides you want to experience. Narrow that list to an attainable selection, leaving any additions to the side. These can be the experiences you'd love to do if you get the chance, but they're not your first pick.
Just make sure you leave some free time when planning out your days. That means avoiding overbooking your day with dining and allowing time to take breaks for any younger kids in your group. This will help to prevent any meltdowns from them throughout the day (or you, no judgment).
Packing the Wrong Clothing
For the life of me, I cannot think of a single person who hasn't fallen victim to this mistake in the past because it is so easy not to pack the right clothing.
There are two inevitable truths when you're in Disney World. The first is that the weather can be wild. In Central Florida, you could be dealing with hurricanes, random rainstorms, oppressive heat, or even all three at once. With that in mind, you'll want to pack accordingly.
While it may be tempting to try and wear a cute outfit, make sure you put the practical first. Wear shorts or bike shorts to avoid chafing (or use a chafing stick, it's a godsend). Pack a poncho with you for rain, so you can avoid paying a premium for the ponchos they sell in the parks. And, if you can fit it in your backpack, bring a pair of sandals in case your sneakers get soaked in the rain.
Speaking of sneakers, wear the right ones. People always underestimate just how much they'll be walking in Disney World. More likely than not, you'll be clocking in roughly 10+ miles a day. With that in mind, wear shoes that will not give you blisters or cause your knees and back any unnecessary pain. Believe me, your whole body will thank you for it at the end of the day.
Using Disney Genie+ When You Don't Need It
In 2021, Disney officially retired their free FastPass+ system in favor of Disney Genie+ and Individual Attraction Selections. These paid systems allow you to bypass the Standby line, instead going through a much shorter Lightning Lane to get to attractions.
Disney Genie+ is a set per person per day cost, starting at $15 for slower days and going all the way up to $30+ for busier days. When you purchase Disney Genie+, you can continue to make set time selections to go and use the Lightning Lane for rides, allowing you to spend less time waiting in lines at the parks.
Individual Attraction Selections are a bit different. These rides are not included in the cost of Disney Genie+ but instead are a separate cost altogether. Currently, there is one Individual Attraction Selection per park:
TRON Lightcycle/Run at Magic Kingdom
Avatar Flight of Passage at Disney's Animal Kingdom
Star Wars: Rise of the Resistance at Disney's Hollywood Studios
Guardians of the Galaxy: Cosmic Rewind at EPCOT
Each of these rides is a per person, per ride cost to bypass the line, with the price changing based on the date.
While Disney Genie+ and Individual Attraction Selections can be incredibly useful and save you a lot of time in the parks, it's important to know when and when not to use them.
For example, during the slower season in Disney World, Disney's Animal Kingdom will often have pretty manageable wait times. During slower times, it can be worth hitting Avatar Flight of Passage right at the beginning of the day when the lines are shorter. After that, you will likely have no problem getting short waits on the rest of the rides throughout the day without spending the extra money on Disney Genie+.
You can use this tactic at most of the parks during the slower seasons, so it's always worth looking at the wait times ahead of time to see whether it will be worth putting out that extra money.
Forgetting to Bring a Portable Phone Charger
While Disney World has changed a lot over the past decade, perhaps its most significant change has been how much of your day in the parks is spent on your phone. Whether making your Disney Genie+ selection, mobile ordering, or making a dining reservation, everything can be done through the My Disney Experience app on your phone.
With that in mind, ensuring you keep your phone charged throughout the day is essential. You can bring a portable phone charger with you or purchase one in the parks or hotels at a FuelRod station.
FuelRods are small portable chargers that will come with both a charger and a charging cord that can work with either Apple or Android devices. A FuelRod will set you back $30, but there's a big upside: Once you purchase it, you can endlessly switch it out for a new, fully charged charger at the FuelRod kiosks.
I recommend buying a FuelRod ahead of time on Amazon, where you can grab a two-pack for $34.99. Bring those into the park with you and switch them out at any point you need a new charger.
While it may seem like a lot, avoiding these common mistakes will make all the difference when you're visiting Disney World. With a little extra planning and prep, you'll be well on your way to the magical trip of a lifetime.