'Bluey' Episode Edited After Viewers Pointed Out Toxic Message About Weight
The ABC and BBC released an edited version of the episode after complaints surfaced in Australia.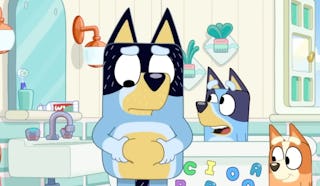 BBC/ABC/YouTube
Everyone's favorite family of Australian cattle dogs are having a moment of controversy — although in true Bluey style, it seems like everyone is dealing with it with thoughtfulness, speed, and a meaningful apology. The issue? One of the newest Season 3 episodes had audiences pointing out some problematic fat-shaming that could teach young viewers some pretty toxic stuff about weight.
According to Deadline, the Season 3 episode called Exercise contains messaging about weight that isn't great for kids: Audiences see Bluey's dad Bandit in the bathroom on the scale, grabbing his tummy and grumbling about his weight.
"Oh man ... I just need to do some exercise," Bandit says.
"Tell me about it," Bluey's mother, Chilli, replies, before stepping on the scale herself. "Oh man," she says, when she sees the number.
Fans were quick to react as soon as the episode aired in its home country of Australia. Many voiced disappointment that the usually super-smart and beloved show engaged in troublesome anti-fat messaging, while many others pushed back, saying that the scene was harmless.
"I adore @OfficialBlueyTV & the messages it sends," wrote one Australian on Twitter. "Except in the latest episode "Exercise", where weight becomes a trigger for exercise. Watching Bandit stand on scale & squeeze his belly, frowning, sends a msg to kids that fat = bad & exercise = weight loss. V upsetting"
Pediatric dietitian Dr. Kyla Ringrose wrote on Instagram that she was a huge fan, but, "Watching Bandit and Chilli weigh themselves and openly hate on their bodies in front of the kids was really uncomfortable. ...I'd love to see the first 30 seconds changed. I don't want my girls watching other trusted adults (albeit dogs!) expressing dissatisfaction with how their body looks. All bodies are good bodies."
Others thought fans were overreacting to the clip.
"'Bluey' is the best show on TV, and being disappointed in your body is a universal human condition," a conservative commentator wrote on Twitter. "Teaching kids that they have agency over their weight is a moral good. The woke mob is wicked."
Health professionals all seemed to have the same opinion: The scene sends a harmful message to kids about weight and exercise that could easily be avoided. It shows not only someone fat-shaming themselves, but also a loved one fat-shaming someone else.
"I think it's extremely important that we have discussions around healthy eating and exercise, but more from a health perspective rather than from a fat-shaming perspective," Dr. Laura Renshaw-Vuillier, a eating disorder expert at Bournemouth University told BBC News. "I did not see that episode, but I like how Bandit is so playful with his kids, and I think that if they can promote a way of doing exercise for fun rather than to lose weight it's great."
Following the lead of the experts both the ABC (Australian Broadcast Corporation) and the BBC have pulled and edited the episode, which hasn't aired yet in the United States.
"The recent episode of Bluey, Exercise, has been republished by the ABC following a decision by the makers of the program," the ABC announced. The new version provides families with the opportunity to manage important conversations in their own way."
"As the home of Bluey, the ABC supports the decision to re-edit the program and we have updated the episode on our platforms," the BBC added. "BBC Studios will use this revised version for global distribution and also support this decision."
"Ludo studios listened to HEALTH PROFESSIONALS and changed the Bluey episode Exercise from season 3," wrote Aussie Girl Margie, sharing a side-by-side comparison of the original and edited versions of the show.
Dr. Elina Telford, a child and adolescent clinical psychologist, also applauded the quick edit.
"I am pleased that ABC heard the concern of the public and acted accordingly," she told the BBC. "In my opinion, their response isn't censorship, it's responsible and responsive broadcasting and that at least, is one thing to be celebrated."
This is not the first time some Bluey content has been controversial. In the past Disney+ has "banned" several episodes of the show in the U.S. due to issues like farting and depictions of childbirth. That seems much dumber than editing a short scene so that kids can get better messages about weight and body-shaming.
It's not clear when this next batch of Season 3 Bluey episodes will drop on Disney+ in the United States, but when they do drop, they won't include any bathroom scales.