Back-To-School Snack Star
An Oatmeal Cookie & An Uncrustable Had Babies — & You Can Buy 'Em On Amazon
My family devours these modern-but-nostalgic treats every time I restock my pantry.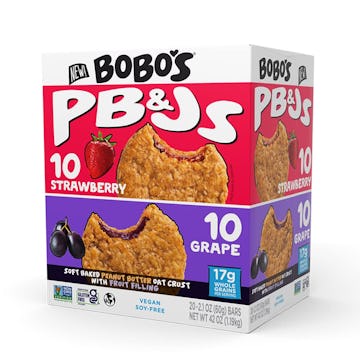 We may receive a portion of sales if you purchase a product through a link in this article.
As summer winds down and back-to-school season looms, nostalgia and snacking spike. All those classic end-of-summer adventures stir up major hunger! And you want comfort foods like lemonade, popsicles with jokes on the sticks, Goldfish crackers, and, of course, PB&Js. After all, is there anything as wonderfully nostalgic and delicious as a peanut butter and jelly sandwich? In a perfect world, your mom even paired it with some chewy homemade oatmeal cookies. If that stirs both your appetite and your sentimentality, you need to know about Bobo's PB&J Oat Snacks.
Because let's be real: Both foods individually have downfalls. If you take too long to eat a peanut butter and jelly sandwich, the jelly seeps through the bread. And oatmeal cookies get hard after a while (and aren't actually as healthy as you'd think). People have tried to improve them: Uncrustables and Little Debbie Oatmeal Creme Pies were more modern steps in the direction of lunchbox durability. But they could still be better, right? Well, someone finally decided to combine the two classic lunchbox staples for what has to be the absolute perfect modern lunchbox staple.
Bobo's PB&J Oat Snacks are one part cookie and one part sammy for sheer and utter perfection — they go fast in my house.
The "cookie" portion of a Bobo's is made with peanut butter and oats. Thus, you get the chewy oatmeal cookie texture with the "PB" flavor of the sandwich. Then, to create that nostalgic PB&J sammy flavor, they added jelly. Seemingly filled like a jelly donut gets its goo, these little treasures get pumped full of strawberry or grape jelly. There's no clear favorite between the flavors in my house, either. They're both delish.
"OK, but lots of things promise to taste like peanut butter and jelly and don't."
There's nothing worse than being promised a particular flavor profile only to discover it doesn't exist in whatever is in your mouth. (Looking at you, bourbon with "hints of maple" wood instead of syrup.) Bobo's PB&Js hit it out of the park with their favors. Growing up, my Mamaw and mom made my PB&Js with JIF peanut butter and Smucker's grape jelly. Bobo's snacks taste exactly like that. Not "kinda close, but they probably used peanut butter powder," or "The jelly tastes a little too 'sugar-free' for me." They nailed it.
Our family consists of a writer (hi!), a cook, an adorably picky toddler, and a rotating crew of two to four college kids/cousins who regularly visit and babysit. Our pantry has become overstuffed with bars and sauces someone "gifted" to us because they know most of us will eat anything and one of us won't touch anything... but we all keep trying.
We keep our Bobo's in a metal lunchbox on the middle shelf, and I'm constantly disappointed by an already empty box — disappointing for my rumbling belly but great for my ease of mind, because I know whoever is stealing from my stash is getting a bite of comfort and a hearty dose of whole grains. Eating Bobo's is good for the soul and the belly.
Luckily, they're available on Amazon, so I don't have to wait until the next grocery shopping day.
Want to take a Bobo's deep dive? While their PB&Js are my family's favorite thing ever, they make a ton of products — all packed with tons of oats. They have chocolate-dipped oat bars that taste like soft, chewy, chocolatey cookies, and they even make their own oat-packed protein bars.
But if you're looking for a treat that is both new and nostalgic at the same time, your own answer is their PB&J Oat Snacks.