Attention, Human Garbage Cans
Here Are 5 Superior Ways To Enjoy The Sandwich Crusts Your Kids Won't Eat
Don't we deserve to eat better?!
Written by Elizabeth Narins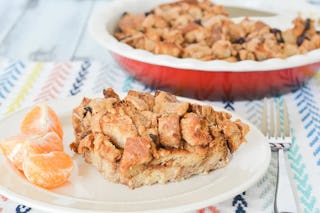 Flying On Jess Fuel
Confession: I'm the mom who buys the ~fancy~ Ezekiel raisin bread to feel better about serving my toddler three out of three meals a day on toast. Whoops! Given ridiculously high grocery prices, it's just my luck that said kid is so averse to crust that even when I remove them (three times a day!), he leaves the sandwich edges uneaten in his little Ziploc bags as if in silent protest. While I'm a mom, not a mathematician, I'd estimate that we'd be sacrificing a sh*t ton of perfectly good carbs if I didn't swoop in for the crumbs.
Truth be told, I'm kind of a crust girl anyway. But if miscellaneous bread crusts are going to be, well, my bread and butter for at least the next five years (or until my child can make his own damn breakfast/lunch/dinner), I'd like to think I can do better. You too? Read on for extra delicious ways to repurpose discarded crusts and make every loaf of bread go further.
5 Inventive Recipes for Leftover Sandwich Crusts
1. Cinnamon Sugar Bread Crust Treats by RecipeTin Eats
We typically think of bread as savory, not sweet, but surely a spoonful of sugar (or, er, five) can change that. This recipe serves up major donut vibes all like "bibbidi-bobbidi-boo!"— no deep fryer required. (Just a lot of butter.) Bonus: These treats are ready in eight minutes, the average attention span of anyone with a child of crust-rejecting age.
2. Bread Crumbs by Jessica Gavin
There are two kinds of people: those who buy breadcrumbs — which you can use in meatballs, atop mac and cheese, and over roasted veggies — and those who realize they've already bought breadcrumbs every time they buy a loaf of bread. The next time your oven is on, toss your crusts in a food processor, spread them on a single layer over a baking sheet, and bake at 300ºF for 10 minutes. Voila!
3. Peanut Butter French Toast Casserole by Flying on Jess Fuel
For the moms in the room who forgot to remove the crust before making the PB&J (*cue toddler tantrum*), this one is for you since dregs of peanut butter or jelly are more than welcome. Just add kitchen staples like milk, eggs, sugar, peanut butter, cinnamon, and raisins, and you'll have a totally new-looking dish made of kid-friendly foods. (Consider your kids' palates expanded!)
4. Bread Crust Croutons by Mrs. Jones's Kitchen
In the long and storied history of kids liking salad croutons more than salad itself, not one child has spit out or otherwise rejected a crouton due to its crust. Also? This stovetop recipe only calls for three ingredients, and one of them is crust. (You've got this!)
5. French Toast Chips by Frugal and Thriving
In this episode of "My Child Only Eats Carbs," there are two plot twists: eggs and milk! Turns out sauteing crusts coasted with a mixture of these ingredients makes them way more palatable — and more fun to dip in syrup (because #childhood).
3 Priceless Tips for Cooking with Crusts
It's best to remove crusts before assembling your kid's sandwiches to keep them free of spreads and tasting notes like, "Wait, was that peanut butter?"
Keep a crust bag in your freezer so that once your little crust-haters have consumed enough crust-free sandwiches, you'll have a solid stash ready to go. Or, keep that bag in your pantry to let the crusts get good and stale, a pro when embarking on the aforementioned recipes.
Have a hankering for one of the recipes above but no crust on hand? Pre-make a loaf's worth of PB&Js, cutting crusts off as you go. Then, individually pack your sandwiches to toss in your freezer for grab-and-go lunches that both keep lunchbox food cool and defrost by the time your kid is ready to eat. You're welcome!
Elizabeth is a freelance writer and/or mother of two under 3, depending on when/if her children go the f*ck to sleep. Find her on Instagram.