So Your 9-Year-Old Has Breast Buds? Don't Panic.
A guide to tackling this new stage of life with your child.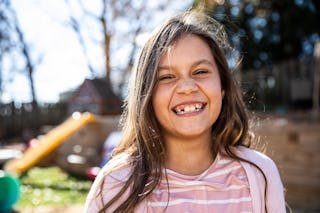 MoMo Productions/DigitalVision/Getty Images
The first time parents notice their daughter has breast buds can be really jarring. Wait, isn't that supposed to happen in two or three years? Is there something wrong with her? Where has my little girl gone?
Research shows that girls are entering puberty at least two years earlier than they did a generation ago, which means that these days the average age for breast budding is sometime between eight and nine-years-old.
There are many theories as to why girls are developing earlier than they used to, but the short answer is that we don't really know. While it's important that we do figure it out — the food we eat? The products we put into and onto our bodies? The stressors of life? A combination of all of the above? — our most immediate concern is caring for the kids in our lives.
The moment a parent notices their nine-year-old daughter's newly 3D chest, why doesn't necessarily matter as much as how we react.
The very first step is to remember that it's perfectly normal. Sometimes breast buds develop on one side before the other; sometimes a bud seems to appear and then disappear; some breast buds are super tender and sore. And if all of this isn't inconsistent enough, sometimes nine-year-olds don't have any breast development — some breasts don't begin budding until 12 or even 13. If you have any worries about this or any other newly appearing feature on your kid's body, speak with your healthcare provider.
But in the meantime, here are some things to remember to help you support your child:
Even though our culture often characterizes pubescent girls as the most terrifying beings on earth, it's our job as parents to push back on that narrative. Yes, things get more complicated. Yes, mood swings are a real thing. Yes, changing bodies can be confusing. But ultimately, our responsibility is straightforward: to keep our kids' safe and healthy, and to make them feel loved.
Cara Natterson, MD and Vanessa Kroll Bennett are co-hosts of The Puberty Podcast. Cara is a pediatrician and author of the bestselling puberty books The Care and Keeping of You Series and Guy Stuff. She is also the founder of OOMLA, a company designed to make puberty comfortable. Vanessa is the founder of Dynamo Girl, a company focused on building kids' self-esteem through sports, puberty education and parent workshops. She writes regularly in her Uncertain Parenting Newsletter about the messy process of raising tweens and teens. You can follow them on Instagram @thepubertypodcast.