Plastic Surgeon Has Her Own Implants Removed After Patients Educate Her On Breast Implant Illness
by Rachel Garlinghouse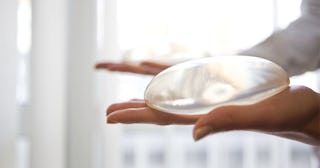 webphotographeer/Getty
This year, I made the big decision to have my breast implants removed after three and a half years of constant pain and then illness. About a year before I explanted, meaning I had my implants and capsules removed, I started to get sick and then sicker. By the time I explanted, I had 29 symptoms of breast implant illness. Most of these symptoms have resolved since my surgery.
Breast implant illness and the other potential dangers of breast implants have become a popular topic, especially since the FDA recently issued new breast implant warnings. I am not alone in explanting—not even close. In fact, a plastic surgeon, Dr. Amy DeRosa, recently made news as a board-certified plastic and reconstructive surgeon who chose to have her own breast implants removed.
Dr. DeRosa shared with me in an interview that she got breast implants ten years ago. She was "an active runner and exercised daily" and thus, "had very little breast tissue." An implant representative offered her implants, and Dr. DeRosa "jumped on the idea" in order to give her "flat chest some natural fullness."
Fast forward about six years, and she saw patients in her office who wanted their implants removed due to multiple symptoms. Dr. DeRosa found herself relating to the patients' stories. For some time, she'd assumed her own symptoms—such as "fatigue, joint pain, hair loss, red eyes, vision changes"–were due to having two toddlers, working, and her age. Her symptoms, she felt, were justifiable—until they weren't.
Her implants were "approaching their ten year expiration." Her symptoms, plus the "constant pain in both breasts due to contractures," made her decide to explant. She understood the process from two points of view: that of a patient and that of a surgeon. Despite her expertise, explanting was "still an emotional rollercoaster." She wasn't nervous about the actual surgery, having done "over a thousand explant procedures" herself. She also chose an experienced explant surgeon, Dr. David Rankin, and she knew she was "in good hands."
She knew she had to follow the post-op rules and deal with the "nuances of drains, compression bras, pain." The hardest part was looking at her chest for the first time after surgery. However, in the months that have followed, she's in the "fluffing stage"—seeing her breasts settle after surgery.
Since explanting, she says she's feels better both "mentally and physically." She's seen improvement in symptoms she didn't even realize, before surgery, that she had, including "lower back and sacral pain." Now, some women who implant may think, no pain, no gain. However, when a person lives with dozens of symptoms every day, all day, it really adds up to a lot of pain.
Dr. DeRosa has noticed that her "eyes are brighter," she has "more energy," and her "mind is clearer." She's noticed improvement in her vision. She shares that overall, she feels "normal again" and wishes she'd known all of the trouble she would have before choosing implants.To date, she's performed over one-thousand explants and does so "on a weekly basis for women all over the country and world."
Not only did explanting change Dr. DeRosa's life, but she's now helping women just like her get their lives back, too. She listened to her patients and told me "after learning about breast implant illness and seeing the changes in patients post-explant, I decided about three or so years ago to no longer place implants cosmetically."
Still, her office gets calls "on a weekly basis from women seeking a breast augmentation." Her staff informs the caller that she no longer performed "cosmetic augmentations" and offers the caller "a free consultation to come into the office and learn about breast implant illness." Most patients, she reports, decline the offer—yet some take her up on it.
Explanting takes a special skill set. Dr. DeRosa wants us to know that if we want to have our implants removed, we need to find a board-certified plastic surgeon with "extensive experience" with this type of surgery. Unfortunately, going to your surgeon who placed the implants might result in outright denial of breast implant illness, say they don't want to remove the implants because it will cause "deformities," and don't wish to perform a capsulectomy (removal of the scar tissue around the implant) which is crucial to healing. Dr. DeRosa says that an "experienced explant plastic surgeon" will welcome the patient "with open arms," believe the patient who says they are sick form implants, and will support the patient's choice to explant, not insist they replace the implants.
What does the future of breast implants hold? Dr. DeRosa says "the future looks promising." She says there are "still a lot of medical questions to answer regarding the effects of implants on patients." She's taking action. She told me she's part of monthly virtual meetings with medical professionals across the country to discuss breast implants. They share ideas and information, as well as "come up with new ideas to help push research in the right direction."
For patients like me, I didn't wait on research to confirm what I already knew. The proof was in the pudding—or, explant. After explanting eight months ago, 25 of my 29 symptoms of breast implant illness are gone. Before explanting, I was a zombie who was in constant pain. I felt stuck, like I was living in a nightmare I couldn't escape. Explanting gave me my life back, and I'm thankful I had surgeon who believed me and did as I wanted. Dr. DeRosa shared with me, "The information is getting out there more and more," and she's had "cardiologists, internists, chiropractors, ENT surgeons, and nurses" refer "symptomatic patients" to her for explant surgery. Additionally, many local and national news outlets are covering BII stories.
I am so grateful for medical professionals like Dr. DeRosa who listen instead of gaslight those of us who have had (or have) BII. Her bravery in sharing her own story, and then choosing to use her time and talent to help others is remarkable. Like Dr. DeRosa, I am feeling hopeful about the future—hopefully that more people know the dangers of breast implants and choose not to get them in the first place. For those who had implants, like me and Dr. DeRosa, I wish them healing from the hell they have endured.