The Best Butterfly Kits For Observing The Magic Of Metamorphosis
We only recommend products we love and that we think you will, too. We may receive a portion of sales from products purchased from this article, which was written by our Commerce team.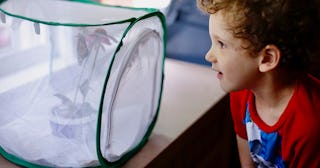 Getty Images
Having a butterfly garden kit to raise a winged friend is a childhood rite of passage, especially for a kid who loves bugs. Growing up, you probably raised your own butterflies in class — or maybe you had a different kind of classroom "pet." After all, who doesn't have good/traumatic memories of raising ducks, snakes, lizards, bunnies, hamsters, or butterflies in school? And what was elementary school without the tight-lipped grin your parents gave you when it was your turn to babysit the class pet over the weekend? Well, you're the parent now, and although virtual learning has taken many kids out of the classroom, you can still provide that memory and some hands-on STEM learning, to boot. Even better, butterflies are a low-maintenance, low-risk critter, meaning little work for you and less possibility of exposing your kids to the aforementioned trauma. And who wouldn't love watching colorful creatures thrive in their own miniature garden?
RELATED: Ready To Start A Container Garden? Here's What You Need To Know
Thanks to at-home butterfly kits — many of which are available on Amazon — caring for a caterpillar is easier than ever before (especially if adopting a small mammal is your idea of a dreaded truth or dare challenge). And hey, maybe it'll appease them enough to stop begging you for a puppy (ha, yeah right). Whether you're a parent looking to enhance your child's remote learning experience or a teacher wanting to demonstrate the basics of biology to a virtual classroom, here are the best butterfly garden kits for home and school.
Best Butterfly Growing Kits
Compact and easy to set up, this butterfly garden kit has nearly 11,000 rave reviews on Amazon. This set comes with a voucher to order the caterpillars separately, offering flexibility if you want to give it as a gift or the season isn't butterfly-friendly. It also comes with a chrysalis holding log for your baby caterpillars to hang on to.
Review: "LOVED doing this project with my 4-year-old daughter. Not only did she learn a lot about the life cycle of butterflies, but so did I! We had 6 butterflies all grow and get set free into the world! I thought she would have a hard time letting them fly away but she wanted them to go explore the world and fly. The best part was when setting them free, they kept coming back and landing on her! She said they were thanking her for taking care of them."
Best Butterfly Kits On Amazon
This pop-up habitat kit stands nearly two feet tall. It features a clear side for easy viewing and is large enough to hold more than one plant. According to the reviews, it's easy to clean too — critical since (apparently) butterflies leave quite the mess once they hatch. You can fold it flat for storage in-between seasons.
Review: "Perfectly sized and very easy to use! I let the caterpillars develop outside on milkweed plants, then when they get large I move them inside into the cage. I give them a small milkweed cutting daily until they crawl to the top of the cage. Then, when they emerge from the chrysalis, I leave them in the cage for one more day. Then I carry the cage outside, open it, and they leave at their leisure - usually the next morning."
Combine an art project with STEM learning in this cutesy kit. If you want something a little different than the standard mesh-sided containers, this one comes with crayons, stickers, flowers, and a coloring sheet so you can decorate the habitat yourself. This kit comes ready with live caterpillars, so make sure you're ready to raise 'em before you hit "add to cart."
Review: "I decided to get this kit because it came with the actual live caterpillars and food, versus the other popular ones where you have to wait weeks later to get them. It was so worth it! Came within a week, all 5 caterpillars were alive and crawling around in the cup with the food. You don't have to do anything except watch them grow."
If keeping a "pet" caterpillar alive still feels like too much of a commitment, this is the perfect set for you. It comes with a net and a mesh terrarium so your kids can catch fully-grown butterflies, observe them in the enclosed "garden" for a few hours, then set them free. You can plan a butterfly-catching expedition to explore nature together, and bonus: Chasing the flying critters will help your kiddos burn off excess energy.
Review: "I gifted this set to a friend's kids for Christmas and was surprised to see how big the set was! I was impressed and decided to buy it for my daughter's birthday the next month. She loves it. The set is sturdy and the net's extension is long. Great buy for kids and adults who enjoy bugs!"
Best Butterfly Kits For Teachers
If you need to store multiple kits in your classroom, you'll be super thankful for this pop-up, fold-flat butterfly habitat. Each kit comes with a log for the chrysalis to hang from and a magnifying glass, which is honestly adorable and will make your kiddo feel like a genius. It also includes a certificate to mail away for the larva, so you can order the kits in advance and prep your new arrivals' habitat.
Review: "We sent the kit into school for our kid's teacher to share with all the kids, with the purchased caterpillars. They had a blast with it! Then we used it at home another time when we found a few monarch caterpillars. It's a lot of fun watching the stages of a butterfly! We will definitely be keeping this around for future uses!"
Perfect for teachers who already have a habitat or want to provide more caterpillars for a class full of kids, this kit refill has everything you need — and we do mean everything. You provide the setup, but they provide a feeder, mister, eyedropper, and even sugar packets (because we know you don't have any sugar around, *wink, wink*).
Review: "We love buying these caterpillars and watching the transformation into butterflies! This company has definitely improved its product, adding a couple of extra caterpillars to safeguard against the natural loss of some, and providing, now, a convenient way to hook the lid to your butterfly net-cage once they reach the chrysalis stage."
For teachers looking to make a big visual impact, this 3-foot hanging cage allows for everyone to observe at once! If class is in session, the kiddos can gather 'round to watch their fluttering friends through the 360-degree see-through mesh screen. And, since the habitat hangs, there's no need to find extra surface space, which is ideal for smaller classrooms. This one also comes with 10 live painted lady caterpillars.
Review: "Our three-year-old was amazed watching the caterpillars eat inside the small containers. All arrived alive, but two out of ten [passed away] later. The eight left did turn into cocoons right before our eyes three weeks later. I carefully placed them into the butterfly container, on the side using the hook on the paper backing as instructed. All eight turned into butterflies in three to four weeks after that."
More Butterfly Kits For Kids
This butterfly garden is the perfect size for a desk or tabletop, making it a great choice for classrooms and a compact one for virtual learning. It also comes with a poster that covers all four stages of caterpillar growth, making it a great decoration for your classroom and a visual learning tool for students. (Hello, new Zoom background!)
Review: "We have only been using the cup as we have had our caterpillars for 2 days now. I love the cup because it has a built-in magnifying glass, and they also supply you with a small handheld one as well. Which my kids love! The caterpillars that you can order come with all the food they will need during the transformation period. The cage is beautifully made and it went together easily. The netting does not cover the bottom and isn't very stretchy. But we made do with what we had. It's a good product. And it's a great learning experience for the kids!"
This article was originally published on