Can Someone Tell Me Who Looks Good In Wide Leg Jeans?!
I want to look cool. Instead, I look like a potato.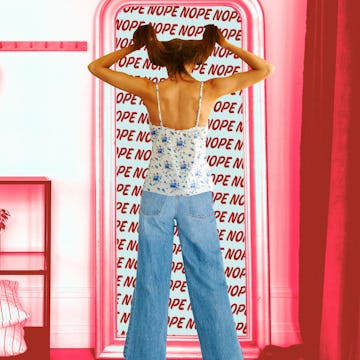 Ariela Basson/Scary Mommy; Madewell, Getty Images, Shutterstock
I stand in front of the mirror shaking my head in disbelief — another fail. And it's not for lack of trying. This is my eleventh attempt at purchasing the right pair of wide leg jeans. You know, the ones all the TikTokers are telling me I have to wear. And this will likely be my eleventh return. Pathetic, I know, but I am on a mission. I remain determined to follow the current trends set by my respected and trusted social media influencers. Because I am desperate to be cool, and they make the rules, after all. But today, after all these failed attempts, I have to ask: Who in the world looks good in these wide legged jeans? Because it sure as hell isn't me.
Looking at my reflection, it is clear that they widen me in all the wrong places, pancake my already flat ass, and land a full inch shorter than they seemingly should. And while my trusted old skinny jeans elongated my body, I now look like a potato. Baked, probably. So here I am desperately pleading to the fashion gods for a little change.
First of all, I need some serious lower belly structure and support at this stage of life. I'm talking an almost-bra-reaching, super high button fly with maximum hold. And if you think that sounds uncomfortable — well, it is. I would much rather prance around in thin, low-rise, loose fitting bottoms that don't leave button imprints on my skin for hours after their removal, but sadly that is just no longer my reality.
I also need lifting, as my entire body has started melting and gravity is not my friend. My butt has no bubble.
And then there is something about the loose legs that is just wildly unflattering on my body. I suspect it's because they don't narrow to a little waist at the top — I need the juxtaposition. So when I tuck both my fupa and my mock neck sweater into the shapeless denim rather than pairing it with a #hotgurl crop top, it just misses the mark.
But honestly, even my most trusted influencers, many of whom are Gen Z, look like they are swimming in a sea of fabric and fashion confusion. I just don't get it. I mean, they don't look as much like a big toe as I do, but there are definitely more flattering styles that they could be wearing. So why are the fashion gods putting us through this, and what am I supposed to do?!
Maybe I should consider being off-trend and embrace the clothing styles that feel best for me. Maybe I should ignore the trends and do what I want! Bring my skinny jeans back out, channel 2018, and ignore the likes of Hailey Beiber and Gigi Hadid as I stay true to my own happiness. Hell, maybe I'll grab a pair of knee-high Frye boots while I'm at it.
No, I won't. I can't! I'm not ready to give up — it's too soon. I still have some coolness left to showcase and some trends left to follow before I am societally catapulted into the clearance section of Talbots. So, I've gotta push through. I will respect and trust the trends and I will order another pair of well-reviewed wide-leg pants in hopes that the twelfth time's the charm. And I will forge forward, like the warrior that I am, TikToking my way to trendiness one unflattering denim at a time. Wish me luck.
Samm is an ex-lawyer and mom of four who swears a lot. Find her on Instagram @sammbdavidson.