Should College Students Be Shamed Into Wearing Masks?
by Erris Langer Klapper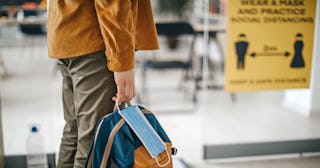 mixetto/Getty Images
Instead of spring fever, fests and flings, March unceremoniously treated college students to a swift one-way ticket back home. My freshman arrived at our local airport COVID-free, but tearful and disappointed beyond consolation. This global pandemic affected everyone and everything we knew, and the daily tally of lost lives broke our hearts. Across the world and every segment of society, we were literally all in this mess together. Several months later, my daughter's university's reopening efforts were monumental and admirable, but "in it together" took on a different meaning and a new set of complications.
Many universities have taken extraordinary measures to ensure a relatively safe return to campus, and students have an obligation to the school and to each other to abide by the restrictions that have been implemented for everyone's safety. The New York Times reports over 88,000 COVID-19 cases at universities across the country.
My teen's university has rightfully stressed that in order to succeed with in-person attendance, 100% buy-in is necessary. A zero-tolerance policy was instituted regarding social distancing, wearing of masks, and keeping gatherings to a maximum of 15 people. Common-sense reminders are posted across campus regarding hand-washing and personal hygiene. While it's virtually impossible to monitor someone's hand-washing practices, it's easy to identify anti-maskers as well as chin-strappers (I'm not sure what else to call this crazy phenomenon) and many universities partially relies on students to report violations via an anonymous reporting form.
The anonymous reporting form has drawn criticism regarding the concept of ratting out peers. To make matters worse, a newly launched Instagram account, supposedly run anonymously by a student, encourages other students to direct-message photos of violators so that they can be uploaded and publicly shamed into compliance.
I cringe at the idea that someone would publicly upload photos of my children without their consent, but in the day and age of social media, selfies and cellphone cameras constantly clicking, the expectation of privacy in a public place is ludicrous. A photo of approximately 30 students without masks, gathered at a local park, drew sharp reactions on both sides: Some felt that holding students accountable when they're blatantly violating school policy, putting others at risk and placing themselves in the position of being photographed is a just and foreseeable consequence. Others felt that shaming is not effective or ethical, and that continuous reminders and education are key.
One parent pointed out that we were all once young and "dumb" and also made many bad choices while attending college in the '80s. While that may be true, the sentiment that 20-somethings are "dumb" is offensive; some adults are also "dumb." But there are consequences to actions, and the majority of students are wearing masks, not hosting or attending large gatherings, and fully understand the ramifications of their actions. To give credit where it is due, this generation of kids that has often been criticized for being "soft," needing "safe spaces" and lots of accommodations, is also incredibly socially conscious and active through leadership and volunteerism. The college applications they not so long ago obsessed over focus heavily on leadership, volunteerism and social action. They know what it means to care about others.
To be fair, the pro-masking, pro-outing Instagram account also posts positive sentiments from students in the form of "I wear a mask because" stories, and shows just how socially conscious our kids can be:
– My little brother has an autoimmune disease and my mom works in a children's hospital, so I can't risk getting sick and bringing it home to them.
– I wear mask because COVID-19 disproportionately impacts BIPOC. These individuals are your friends. They are your classmates. They are me. Not wearing a mask perpetuates the decline of my health and the death of those that look like me. I don't want to die, and you shouldn't take that lightly.
– I'm wearing a mask for my high-risk sister, and to protect my in-person education. I am here first and foremost to learn and I learn best in person, so I would like classes to stay that way.
The university invested millions of dollars to build additional temporary structures that are ADA-compliant and air conditioned, and serve as additional class and dining spaces. They hired countless additional cleaning crews and conducted a massive (and much-needed) scrubbing down of the every crevice. Cleaning crews scour common spaces, change filters, and sterilize. Extra security has also been added. On-campus students are tested twice a week, quarantine dorms and hotel spaces are being utilized, and contact tracers are hard at work.
Some have questioned whether this monumental effort was worth it, and have opted for online-distance learning. But those who chose to return to campus have an obligation to the school and to each other to abide by the restrictions that have been implemented for everyone's safety.
Shaming should not be part of the education process and often has an opposite effect on kids. Many universities have implemented an online anonymous reporting form that also carries inherent dangers, but is a reasonable option under the circumstances. If a kid is wrongfully accused, the matter can be investigated and handled privately, rather than on social media.
While publicly uploading photos of students is unethical and shameful, so is blatantly disregarding rules regarding masks and social distancing. Students who chose to attend in person signed social contracts and consented to restrictions that were put in place during these unprecedented times. Those students also took risks for the sake of in-person learning and they have an obligation to each other and to the university to comply.
This is not about shaming – this about a once-in-a-lifetime pandemic. Let's get it together. Not complying is not an option.