8 Super Comfortable Headbands That Won't Hurt Your Ears Or Give You Headaches
No ouchie headbands allowed!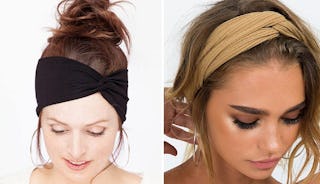 Do you love the look and functionality of headbands but can't stand how they feel on your head? The pinch behind your ears? The dull headache? The nagging slippage of an ill-fitting band and the constant need for readjustment? Same. Same. Same and same.
We ask headbands to do a lot of different jobs for us: from keeping our hair and sweat at bay during a workout to covering up a bad hair day to dressing up and accessorizing our looks and more. We all have unique head shapes, hair types and lengths, and styles — and those differences can make finding comfortable headbands a daunting task.
That's why we scoured Amazon reviews to find highly-rated and affordable headbands with at least 1000 five-star reviews in a wide range of styles in the hopes that (at least) one of these is the perfect headband for you.
We only include products that have been independently selected by Scary Mommy's editorial team. However, we may receive a portion of sales if you purchase a product through a link in this article.
Whether you're looking for more of a fashion-forward accessory or something to keep your hair (and sweat) out of your eyes during a workout, it is possible to find a comfortable headband that fits the bill.