35 Gift Ideas For Runners, According To Runners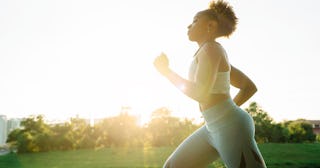 Getty Image/Inti St Clair
If you don't run yourself (or think there are one billion other things you'd like to be doing right now like gardening or drinking) it may take some time to find the right gift for the runner in your life. If you kind of know what's up when it comes to running but are looking to kick it up a notch, we've got the a list of the best gifts for runners, according to runners. They need the right shoes, the rights socks, the right gear to stay hydrated and well nourished and all the latest devices to listen to their tunes or podcasts before heading out for their daily dose of hormones.
Chances are, they have a preference when it comes to what they wear and how the keep their joints healthy and happy. If they run outside, as the colder months approach, they need to stay warm.
If they like to have it out with the treadmill every day, they need to have the best water bottles and ear buds to keep them motivated. We can't forget everyone feels better about feeling the burn when they are wearing breathable, comfortable workout gear that's flattering and stays in place. So, to make sure you don't forget anything, we've put together the ultimate gift guide for the runner in your life.
Gifts For Runners
Gifts For Marathon Runners
Marathon runners are in a whole different league. They have grit and soul and going out for a five-miler is literally just a walk in the park for them. They know their body needs more when they are training for a big race or going to venture out for a long run, so (while we stay relaxing on our lounge chair or recliner) they need to be prepared.
Christmas Gifts For Runners
The holidays mean colder weather and shorter days are coming, so it's a great time to give your loved ones who run their life away things that will make it possible for them to run in the dark or freezing cold.
If this story motivated you to head out for your first run, and now you're looking into protein shakes, check out these amazing blenders.