60 Cool Things For Your Home That Seem Expensive But Are Actually Cheap AF On Amazon
You may not need them all, but you'll probably want them.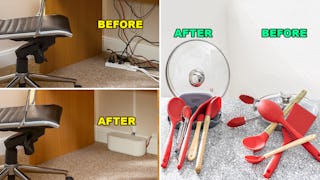 We may receive a portion of sales if you purchase a product through a link in this article.
You don't have to spend a fortune to have nice things. Amazon sells practically endless functional household items that are so efficient and legit, it might feel like you should have paid a lot more. But you don't have to pay more, because it's Amazon, and Amazon's a budget-friendly treasure trove.
From stylish storage organizers for your closet and convenient soap dispensers to easy-to-clean kitchenware and a swanky dish-drying mat, the items on this list exist to bring joy and ease to your life at a super affordable price.
For more inexpensive efficient Amazon products, check out this list of clever items you can buy on Prime right now.