9 Affordable & Cute Pencil Cases That Everyone At School Will Ask About
"Omg, where did you get that?!"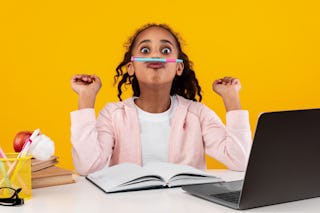 Shutterstock
The full and oh-so-hot days of summer are quickly whizzing past us one by one and, somehow, it's already time to start thinking about the upcoming school year, cool backpacks, fresh lunchboxes that don't have permastink (yet), clothes and shoes that are not only weather appropriate but actually fit, and the other endless minutiae of back-to-school planning. Cute pencil cases for kids might not be at the top of your school supply priority list, but a thoughtfully-selected storage situation for pencils, pens, and other supplies like calculators, rulers, erasers, sharpeners, charging cables, and headphones can help get your kiddo off to an organized start this school year.
We've read loads of reviews and pulled together a list of highly-rated, super cute, and unique pencil cases for a variety of needs and tastes to help make this part of your back-to-school journey a little easier.
We may receive a portion of sales if you purchase a product through a link in this article.