Disney World Now Offers Adult Princess Makeovers, And Where Do We Sign Up?
by Thea Glassman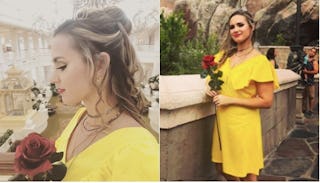 Image via Instagram/Kristen Mae
Disney World is offering adult princess makeovers and they're actually adorable
Disney World is a magical, magical place. For one whole day, you can suspend all of reality, hop inside a life-sized teacup, hang out with Goofy, and eat impossibly sugary treats shaped like Mickey Mouse's ears. And now, the Orlando amusement park is kicking it up a notch by offering adult princess makeovers. Bear with me, because it's actually very charming.
Here's the whole sparkly deal. Character couture makeovers allow adults to live out their Disney princess fantasies with a hair, makeup and nail design package that costs $120. There are also cheaper options for customers who only want to get specific services done.
"The main thing that makes the experience different than anything else is that it's customizable," Joseph Motowidlak, the guest experiences manager at Senses Spa, told TODAY. "Our stylists have an extensive color palette to work with and clients get to talk through their vision for their look with their stylist — whether that's something subtle or more dramatic. Truly, the sky is the limit."
And ummmm…the results look good. Like magical, topped with fairy dust good. All I would like to do right now is put on a yellow dress and have a large hairy beast kiss my hand. This is not something I ever thought I'd say.
She looks incredibly gorgeous and like a grown-up version of the princesses we know and love.
BRB, sighing forever.
Motowidlak added that adults were already dressing up when they came to the amusement park – so guest services wanted to offer a full professional package to help out.
"We saw that our guests were coming up with outfits and entire ensembles inspired by Disney characters. We really saw a need for some kind of transformative makeover experience for people of all ages – something customized to allow guests to really enjoy their day on our property."
Kristen Mae (seen rocking the hell out of the Belle costume above) told Scary Mommy that her transformation was a "perfect, fun, silly day with friends." Plus, the whole group managed to keep their tiaras intact and look impressively elegant on one of the rollercoaster rides. Disney princesses can indeed do it all.
And don't worry, the kids get to have just as much makeover fun.
Now, go live your very best princess life. It'll just take a killer dress and a little bit of bibbity bobbity boo.
This article was originally published on