Here Are The 21 Best Eco-Friendly Gift Ideas Of 2021 For Your Zero-Waste Friends
We only recommend products we love and that we think you will, too. We may receive a portion of sales from products purchased from this article, which was written by our Commerce team.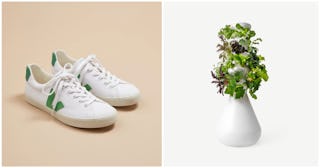 Lettuce Grow/Amour Vert
If you're looking for eco-friendly gifts, you've come to the right place. Here at Scary Mommy, we may be sassy AF, but that doesn't mean we don't give a f*ck about the environment. Actually, we give a ton of f*cks. After all, it's our Mother Earth. When this planet is gone, we'll finally find out once and for all: There is no Planet B. That's why we're all about giving our best friends and kids cool eco-friendly gifts in hopes that they'll want to go green, too.
Being conscious of your carbon footprint is the first step in reducing it and while packaged gifts might not leave the mark private jets and massive luxury yachts do, all those small things do add up. According to the Center For Sustainable Systems from the University of Michigan, anyone can reduce what ends up in a landfill by recycling, composting, or buying products with less packaging. You can take the added step of buying items from companies who publish their products' carbon footprint. So, all this to say that not only are cumbersome plastic packages, packing peanuts, and bubble wrap annoying to clean up off your floor, they're actually hurting the environment, too.
RELATED: Ready To Start A Container Garden? Here's What You Need To Know
So, if you're the green-thumbed zero-waster of your mom-friend group, or you have kids that you really want to inspire, check out some of the most eco-friendly gift ideas on the market. All of these products are made from sustainable, natural, or recycled materials. You won't find any single-use plastic here, mamas. That sh*t is so over.
For more gift ideas to keep your friends and homes healthy, check our our other wellness picks.