10 Best Foldable & Compact Ellipticals For Small Spaces
We only recommend products we love and that we think you will, too. We may receive a portion of sales from products purchased from this article, which was written by our Commerce team.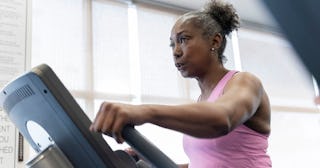 Getty Images/Jamie Grill
If you have a smaller space but want a good workout, you're in luck: There are plenty of foldable ellipticals that save room. Nothing works up a satisfying sweat quite like a good ol' easy-on-the-joins elliptical session. But between work, kids' schedules and various schooling situations, going to the gym seems like a luxury of yesteryear. So maybe you're considering investing in an at-home elliptical so you can take advantage of early mornings, quick work breaks and nap times – without the expensive monthly fee and commute time of going to a gym. (Hell, you can even have a foldable treadmill, portable sauna tent, and all of this other workout equipment at home, so there's really nothing to miss about the gym.)
But who has the space for a giant elliptical machine in their home? (Not us, that's for sure.) Compact and folding elliptical trainers are where it's at if you're going to buy an at-home elliptical. They take up less floor space and are easier to move, all without compromising features or mechanics, since they still offer full strides and a variety of resistance options. Now we just have to inspire ourselves to actually get on the elliptical.
Read on for our 10 top picks for small, space saving ellipticals.
Best Foldable Ellipticals
Best Mini Ellipticals
Best Compact Elliptical Machines