A Baker Read 'Emo' Instead Of 'Elmo' On Cake Instructions & The Outcome Was Hilarious
She realized her mistake at the last minute, and the viral Emo Elmo cake was born.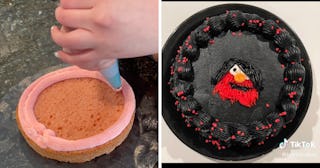 brinnicakes / TikTok
Talk about a bad day at work. Baker Brianna Romero took on a last-minute cake order at her small business and got right down to work getting it done. But with just an hour until party time, she realized that she misread the instructions in a terrible, terrible way.
What happened next was her "worst nightmare" but also one of the funniest misunderstandings the internet has ever seen.
"Last week, a lady DMed me and asked me if I can make an emo cake," she began in a TikTok video. "I was thinking 'Yes, of course. I love emo and I love goth. And I've been perfecting my black frosting so I'm ready for this.'"
"I get all the info, the flavor, when she needs it by and everything like that," Romero explained. The cake is done except for the number on top. When she asks the client what number she'd like, though, she gets a surprising answer: it's for the client's granddaughter, who is turning four.
"I thought it was a little bit weird because I don't know an emo four-year-old," she said. "But I was thinking, I was trying to reason with myself, maybe she just likes 'Wednesday' or something like that."
"But, I don't know, something felt wrong so I DM her and I just say like, 'Yes, of course I'll add the four candle but if you don't mind me asking what is the theme of the party?'"
The grandmother says the theme is Sesame Street. It's only at this moment that Romero understands what went wrong.
"My heart sinks a little bit because this is now making sense to me. I think, let me just go back to my text. And when I scroll back, I misread 'emo' and it says 'Elmo cake.'"
At this point, there's only an hour to go until the delivery. She rushes to the grocery store, puts a pre-made Elmo topper on the black cake, and realizes that's about the best she can do, other than giving it to her client for free.
"It's going to be free today," she told the customer, before high-tailing it out of the situation.
At this point, over 11 million people have heard the story. But sadly, no one got to see the cake (other than the birthday girl and her family members) because it all happened so fast.
Don't fret, though. Romero posted a follow-up video that included receipts that her story was true as well as a recreation of the infamous confection. Can something be dark and cheery at the same time?
"Heard yall wanted a reveal??? Sorry it took long, I would've included photos in the original if I had them but like I said I was in a rush," Romero wrote in the caption. "Anyway heres the freaking emo elmo cake okay!"
Reactions to the cake were joyful.
"Legit dead over this," one person wrote on TikTok
"Panic! At the Elmo," quipped someone on Twitter.
Romero, 24, told TODAY that she's been baking cakes for over a year for fun — and that she's never had a big following on social media. But since the video went viral on both Twitter and TikTok, she's had an increase in orders, both for regular cakes and the famous Emo Elmo cake.
"My orders are predominantly through Instagram, people just DM me with the dates and their ideas and stuff. Because I feel like I'm still learning, I'll take on most challenges," she said.