A Florida Teacher Tearfully Describes Removing All The Books From Her Classroom
Because of Governor DeSantis' harsh new law controlling books in schools, many classrooms are bare.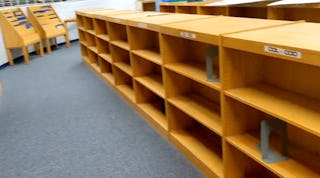 @JagsFanBrian / Twitter
This is what happens when really terrible ideas, with really terrible implementation, are signed into law. Reports out of Duval County Public Schools in Florida show that teachers and librarians are being forced to remove or hide the books in their classrooms and libraries, under punishment of steep fines and even felony convictions.
Why? Because of Florida House Bill 1467, which was signed into law in March by Republican Governor Ron DeSantis. The controversial piece of legislature bars teachers and educators from using unsanctioned reading materials in school. Put another way, it's a way for schools to effectively control what books teachers provide to kids and to ban books that the government in charge doesn't agree with.
If that isn't bad enough, the new law requires a ridiculous amount of work to be done by media specialists. They not only need to create parameters in which to judge and ban certain books, they also need to go through every single book in their school to determine what's okay and what's not.
In some schools, like those in Duval County, teachers were asked to put away all classroom books until someone is available to approve them.
Parents and teachers are now speaking up across social media — though many are frightened to do so.
Third grade teacher Andrea Phillips spoke with CNN about how the ban is affecting her classroom, and shared a video of putting her classroom reading resources away.
"I'm going to start boxing up my books," she begins, barely holding back tears. "And my heart really hurts."
She said that her kids read books every day, that she often gives books away via a Little Free Library, and that many of her kids don't have access to books at home.
"I've never seen anything like it," she told The Independent in a separate interview. "It feels cold without all my books. It doesn't feel like the classroom and the environment that I built."
"It's scary and it's sad to me," she continued, noting that she had to remove her books during Literacy Week. "If I make a mistake and made a book available to a student and somebody objected to it, I could lose my teaching license, I could lose my right to vote, I will be registered as a felon. It's absolutely ridiculous."
"The autonomy that has been stolen from me," she concluded. "I'm a certified teacher, I've been doing this for more than a decade. I've done training after training. I've worked with kids for years. I know what I'm doing," she said. "It's just a punch in the gut. I don't even really have the words for it because it's so heartbreaking and heart-wrenching."
"I really feel like it's just a part of me is dying," she said.
So far, 176 books have been banned in the Florida county. And it's no surprise that a disproportionate number are written by or are about marginalized groups like African Americans, LGBTQ+, and Jewish Americans.
A parent in the same Florida county posted a video on Twitter showing his children's empty library. "They removed every book from my children's classroom," he captioned.
Laws banning books are, of course, generally bad. But this Florida law in particular is hurting kids because it's extremely vague (What kids books "harm" kids? And how do you find them efficiently?) and extremely difficult for already resource-strapped public schools to implement. The result is that kids don't have books in their classrooms and even those who support the law aren't getting the results they want.
This is not the first time Governor DeSantis has taken this slapdash approach to the law, especially with the goal of imposing his private morality on others. The "Don't Say Gay" law has also put schools and teachers in a bind as school systems try to understand what the harmful law even means or how to enforce it.