There Are No 'Entry-Level' Homes For First Time Homeowners
by Amber Leventry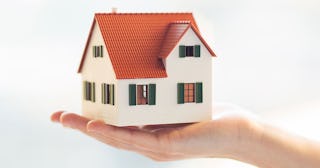 dolgachov/Getty
Since my divorce, I've been in the market for an entry-level home. I don't want or need big and fancy or even brand new. I just need space for me and my three kids. Ideally this will be a three-bedroom home with at least one and a half bathrooms because every time one kids has to shit, I swear they all need to shit. I guess one will have to go outside. But finding this dream home and at an affordable cost has been nearly impossible. There is a shortage of entry-level homes and a lot of us looking for one. Here's why.
The pandemic seemed to point out the wild housing market, but the shortage of homes started to spark the attention of many in 2018 according to mortgage lender Freddie Mack—though the decline of inventory has been steady since the 1980s. In the early 80s, 40% of new construction consisted of these entry-level homes; a starter or entry-level home is roughly 1,400 square feet and consists of two or three bedrooms and is what many first-time homeowners purchase. By 2020, the percentage of these homes built had dropped to 7%. Within the next decade, 45 million Americans will hit the median age of the typical first-time home owner (34-44) age and be ready to compete with who is left of the 41.8 million of us currently still looking for our dream starter home.
The market is already 4 million homes short to meet current demand and unless the trend of new construction changes, that hole is going to deepen.
Why the decline in the first place?
The pandemic has also highlighted the ongoing labor shortage among construction workers. Of the construction firms surveyed by Associated General Contractors of American, 81% said a lack of skilled employees was a problem. Builders are also up against tighter land use and zoning restrictions, lack of land to develop in populated areas where people can find jobs, the inflation of land value for single-family housing, and the ongoing spike in the cost of building materials.
The pandemic exacerbated this problem by increasing the cost of lumber more than 150% while adding wait time to get the necessary supplies needed to build. Both issues are improving, but it's simply not cost effective for builders to construct entry-level homes. Especially when the cost exceeds what a first-time home owner can afford.
The cost of supply vs. demand.
According to the Federal Housing Agency, the median price per acre of land under current single-family homes went from $159,800 in 2012 to $203,200 in 2017. Builders need to find a way to re-coup the cost of land while covering the cost of building materials and buyers are paying the price. This is part of the reason why the cost of these homes is exceeding what they're worth.
Record low mortgage rates are encouraging more people to enter the market too which means purchasing power has stayed strong with the increase of house prices. Financing a new home—if you can afford the down payment and outbid several others—is incredibly cheap right now. This alone draws more people to an already short-supply, high-demand housing market. And with many people still forced or choosing to work from home, there is a renewed appreciation for where we live and the home we own. People quickly saw the need for more space for home offices and distance from full-time family presence.
During this time, the market saw an increase in home sales but inventory was still much lower than what was being demanded. The simple rule of supply and demand is driving the cost of houses to exceed what they're worth, causing bidding wars, and people to forgo inspections to get the house they want. In the last year I have heard more people say they lost out on a home because someone was able to pay in cash. That someone is not me.
Is there hope?
Where I live, the cost of houses on the market are slowly dropping but inventory is still low and more than what I need and can afford. I am trying to stay patient, but persistence and hard work only go so far. I'm working with a community land trust organization that helps people afford entry-level homes, and while the program is wonderful, I haven't seen a home that meets my needs in the nine months I have been enrolled. Some reports indicate that inventory will improve at the end of 2021 and into 2022, but timing and luck will need to be factored into my search too.
Lawrence Yun, chief economist for the National Association of Realtors, says, "We'll see more inventory come to the market later this year as further COVID-19 vaccinations are administered, and potential home sellers become more comfortable listing and showing their homes. The falling number of homeowners in mortgage forbearance will also bring about more inventory."
The real relief and hope for millions of us will come in the form of new, affordable housing but we are years away from that. The demand for entry-level homes will remain high for the foreseeable future.
This article was originally published on