To My Friend Who Died Of Breast Cancer: I'm So Grateful For You
by Ryann Roberts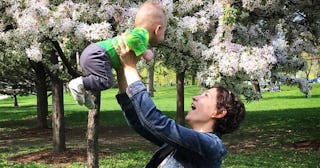 Courtesy of Ian Smoke
October, the beginning of fall, pumpkin spice latte season, the kiddos countdown to Halloween, and Breast Cancer Awareness Month. The month when the stores turn pink with a million different ways you can show your support. It is a month for us to celebrate those who have fought the battle and won, support those who are currently fighting, and sometimes, to think back on those we have lost.
Although I was always aware of breast cancer and conscious of the many ways my friends and acquaintances have been affected by the disease, it wasn't until Lauren that I felt personally touched. Since then, there have been a string of diagnoses, a bunch of surgeries, a lot of remission, and a few really tough funerals. But, those are other stories. I want to tell you about Lauren and how she continues to inspire me.
Lauren was like a Disney princess — her beautiful singing voice perfectly complemented her gentle heart that was apparent to anyone who met her. She led the weekly baby music class for a room full of sleep-deprived moms and drooling infants. It was no surprise that my son lit up whenever he saw her, regardless of how much of a jerk he was being just mere moments before. For me, maternity leave was like living through a battle, yet Miss Lauren's weekly class was my moment of respite; a place where I could just wave around silk scarves with reckless abandon hoping to "developmentally stimulate" Huddy so he would take a nap on the way home. Her class was a place to complain to fellow moms, get advice, and tear up while singing "You Are My Sunshine."
Shortly after getting married, Lauren's dreams came true when she found out she was pregnant, and then, just as suddenly, her world came crashing down when she found a lump in her breast a few weeks later.
Lauren was eight weeks pregnant when she learned she had breast cancer. She was a true warrior, doing the impossible, enduring chemo while also dealing with morning sickness. Her maternity photoshoot was for the American Cancer Society. Not quite what she had planned, but she persevered with grace and dignity, sacrificing herself for the magical little baby thriving inside of her, ultimately giving birth to a beautiful, healthy baby boy.
Lauren went into remission until she wasn't. When I learned that she had passed, it didn't seem real. This wasn't supposed to happen. She had a baby boy who deserved to know her.
Every time I have one of those days when I am just not feeling it, like on a rainy Sunday afternoon, trying to wrangle a manic little boy while hungover from last night's wine, I think of Lauren. Those days when I just want to crawl under the covers and watch a Bravo marathon instead of "momming," I think of how Lauren would have given anything to spend a rainy afternoon with her little boy. I think of how she would sing and dance and kiss his cheeks. It's in these moments that I feel an overwhelming sense of gratitude.
I get to be here. I get to do this. I get to be a mom to this incredible (albeit slightly muddy) little human. It doesn't mean that a switch suddenly flips, and I morph into Supermom, ready to take Huddy's baseball team on an ice cream run, but I do, even if it's just for a moment or two, honor Lauren and all the other mothers out there who would have given anything to stay here and keep hugging their babies, and I hug mine extra tight for them.
"Want to go splash in puddles, Buddy?" I asked, determined to make the best of a rainy day.
"Yes!! Clothes or no clothes?" he asks, excitement bubbling up.
Okay. Moment passed.
A few months ago, I ran into Lauren's husband and their little boy at a museum. I recognized them from afar, and I had an overwhelming urge to go up to them and say something. I kept my eye on them, trying to muster up some courage, probably looking like a total creep. I wanted to tell her husband how much Lauren has affected me; how she continues to help me see through the fog to what's really important.
"Hi, I recognized the little guy," I said, waving awkwardly. "I knew Lauren from music class, and I just wanted to let you know that I think of her often."
He smiled. "Lots of people tell me that."
"So, does the kiddo show any musical inclinations?" I laugh as her precious little boy grabs my son by the hand and drags him over to a pile of magnetic blocks.
"Oh yeah!" Lauren's husband chuckles. "He starts singing, and it never seems to stop!"
"That's Lauren in him, huh?"
"Yeah, I think so." He nods.
I knew then that her little boy does know her. How could he not? She is in his heart and in his song.
So, thank you, Lauren. You have been my inspiration during some of my darkest mom moments. May you keep singing, and never stop.
This article was originally published on