You Need Everything In This Line Of Barbie Pool Toys & Swimsuits
Get ready for Barbie summer.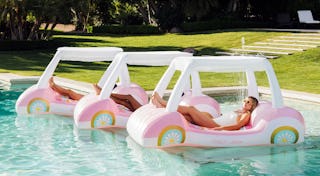 We may receive a portion of sales if you purchase a product through a link in this article.
What's more exciting than the fact that Greta Gerwig's Barbie movie is coming out this summer? Nothing, except that there is all sorts of fun Barbie merch coming out to celebrate it, and lots of it's directed at adults instead of kids. Eat it, kids!
First and foremost on this list is the FUNBOY X Malibu Barbie 50th anniversary collection, which consists of branded pool floats, inflatables, swimsuits, towels, and more, all in bright pink swirling patterns that scream Barbie summer.
More: Woman Buys A "My Size" Barbie 20 Years After Her Mom Took Hers Away
The thing I have to talk about first is obviously the Barbie golf cart pool float, which contains the cutest details, including a removable fringed hanging sun shade on top. It also allows you to prop up your head and put your feet up at the same time, which is just the best. It's also big enough for two and comes with cup holders and a tether point.
If the golf cart is not your style or out of your price range, there are several other available pool floats for the discerning Malibu Barbie fan. The chaise lounge is oversized and can fit 1-2 people and it just looks like it can get the job done.
There's also the classic inner tube, a good choice for river floats or those on a budget. In addition, there's also a private jet float, a pink swan float, and an inflatable Barbie beach ball.
If you like to match your inflatable pool floats, I have some good news for you. The collection also includes a number of swimsuits: one one piece, two tops, and two bottoms, all in the same fun pattern. Here's what the one-piece looks like, which includes a removable waist chain.
Finally, there are some fun accessories: a beach towel, a matching scrunchie, and an inflatable kiddie pool. to view the entire collection, visit FUNBOY.
And the Barbie movie comes to theaters everywhere on July 21.