I Hated The Look Of Filler… Until I Tried It
It's not all duck lips, people.
by Morgan Flaherty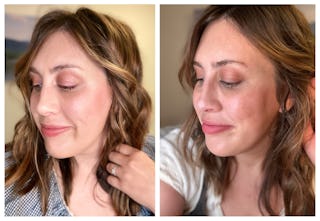 Morgan Flaherty/Scary Mommy
After having my first child, something about me just looked… different. I'm not talking about the stretch marks, the melasma, or the awkward postpartum hair experience. After giving birth, my face looked like it had aged, with a noticeable decline in collagen.
The change was enough to lead me to a MedSpa, where I asked if there was any treatment that could help bring back a little bit of pre-baby life to my face. When they suggested dermal fillers, my response was an almost immediate no.
For me, the thought of fillers conjures up the image of reality TV stars with overfilled faces, duck lips, and contorted cheeks that look like Instagram filters come to life. While I have no qualms with what others do with their bodies, the idea of a similar look for myself scared me far more than a bit of a tired postpartum face.
But when I began looking further into it, I realized I may have had some misconceptions about the procedure. When I looked at the before/after pictures of the patients from the injection specialist, it became clear that filler didn't have to be the overdone look I had become accustomed to — it could be done with a minimalist approach that looked truly natural.
It was then that I began my journey with aesthetics. And spoiler alert? I loved the results.
I can safely say that the major reason I ended up with results I love is where I went and who I saw. I worked with Hannah Eckler at Skin Science Aesthetics, a board-certified nurse practitioner with extensive knowledge of anatomy, physiology, and injection techniques. So, I spoke with her about the basics behind dermal filler, from the cost to what kind of results you can expect.
The Basics of Filler
A dermal filler is an injection that plumps up wrinkles and smooths lines on your face. While there are different filler types, the most commonly used is hyaluronic acid. "This is a manufactured gel that mimics our own natural hyaluronic acid that is found in our body," Eckler explains. "This gel is temporary and is metabolized by our body or dissolved."
Filler can be used on many parts of the face, with the lips, cheeks, and chin being particularly popular treatments. The results can be seen immediately and can last anywhere from six months to two years, depending on the area treated.
The Process of Getting Filler
The first step in getting filler should be a consultation with your provider, where you can decide on a treatment plan and take before pictures. "This should be your chance to get all of your questions answered and make a treatment plan together," Eckler says. "Once you decide on getting filler, your provider will go over your consent to treatment."
Eckler stressed that it's OK to ask what type of filler your provider uses and how much they plan on using. As for comfort, speak with your provider about numbing the area, if necessary, or any other comfort measures they can provide. For my lip filler, we used topical numbing, and Eckler continuously checked in on how I was doing before she continued each step.
Depending on what is being done, the procedure can last anywhere between 30 minutes to two hours. After you're finished, you'll take after pictures that can show you your results, and you'll be given aftercare instructions.
There may be swelling or bruising from the injections, especially depending on where you had the filler injected. For example, Eckler noted that bruising and swelling are very common with lip filler but should start to improve after the third day.
For the 24 hours after fillers, you'll want to avoid any heavy exercise and alcohol, which can make bruising worse. You'll also want to avoid makeup or putting anything on your face immediately after that can potentially contaminate the injection site.
The first few days after getting filler, the areas where you got your injections may also feel a little bumpy — this will smooth itself out within a few weeks!
Frequently Asked Questions
How long does filler last?
How long the filler lasts depends on the type used and the area where it was used, but most fillers will typically last anywhere from six months to two years. However, Eckler shared that some studies have shown that filler may remain in the body for longer than previously thought, so that's something to keep in mind when you are planning to go in for a refresh.
Lip filler is typically the shortest lasting, with small amounts lasting about six to eight months, while larger amounts can last up to 18 months. "Other areas of the face may last up to 18 months as well," Eckler tells me. "The time that filler lasts depends on the product used, the area that it is placed, and the time it takes the patient's body to metabolize the product."
Where age should you get filler?
"The age that people start using filler varies widely," Eckler explains. "So many factors come into play when deciding to get filler. I tell all of my patients to go slow and keep it natural. I have patients who receive filler from ages 18 to 70. The trick is to go slow and honor the patient's facial anatomy." She suggests starting at whatever age you feel comfortable, and that the most important thing is finding a provider who makes a treatment plan with you and honors your goals.
So, how much filler will you need? "As we age, our bones resorb, and we lose the structure of the face that supports our skin. While that happens, we also lose the "good fat" in our face (the cheeks, temples, etc)," Eckler says. "This ages us as our skin starts to descend, and the collagen that we had in our 20s continues to dwindle. The amount of filler needed will depend on where you are in the aging process, your lifestyle, and your genetic predisposition."
How much does filler cost?
The cost of filler will vary widely depending on what area of the country you're in. However, you can estimate anywhere between $600 to $1,000 per syringe of filler. How many syringes you need will depend on where you're treating and how much you need to get your desired results.
While the high price tag may lead you to consider cheaper options, you should definitely avoid that. As Eckler cautioned, "If a MedSpa or clinic is offering extremely low-cost filler, be warned that this may be too good to be true. Question the quality and authenticity of the product used and the skill set of providers."
What to Know Before Getting Filler
On that note, when it comes to choosing a provider for filler, there are a few factors you'll want to look out for. Finding a knowledgeable and educated provider for the procedure is key. "Filler is a medical procedure, and there are risks that can come along with it," Eckler points out. "Your provider should educate you on these while keeping your safety as the highest priority."
Cleanliness is also something to look out for. Your provider should thoroughly clean the space where you are getting the procedure before and after.
While dermal fillers aren't permanent, it's still a procedure, so you should ask questions and know all the benefits and the risks. Don't be afraid to speak up with your provider, sharing if something doesn't feel right or you don't like the results. Pick a provider that makes you feel comfortable and does not pressure you into unnecessarily adding on, or who doesn't listen to your overall goals.
In my case, working with small amounts over a more extended timespan helped me achieve the natural results I wanted, keeping me looking like myself but just a little more refreshed.
"Getting dermal filler doesn't have to be scary; I want patients to be empowered in the process," Eckler says. "Find a provider who you trust and feel comfortable with."
My Experience With Dermal Fillers
When I spoke with Eckler about my initial needs, I gave an utterly unrealistic request for results that made a difference but weren't noticeable. But ever the pro, she understood my garbled request for a natural look that refreshed my face. Eckler explained the benefit of "facial balancing," which is "the idea of optimizing facial proportions and not just adding lips or chin but rather bringing balance to the entire face."
For that, we did a small amount of filler in my cheeks and lips, which we did over separate appointments to allow any swelling to go down and see my results. Here's a picture from immediately after, when the lip swelling was at its peak.
As you can see in the before/after pictures, I don't look like a different person. I look like me, maybe even a bit like me before a kid and pregnancy.
Will I get fillers again in the future? Honestly, I can't say for sure. I love the results, but I also can't predict if I'll want to keep maintaining them in two years' time. I do appreciate that I can choose to continue on and use fillers in the future or just let them naturally fade away over time. And for right now, I'm enjoying the extra lift that hides the fact a toddler now controls my life and schedule.