How To Survive Your First Trip To The Great Wolf Lodge
Repeat after me: We don't have to finish MagiQuest.
by Amber Guetebier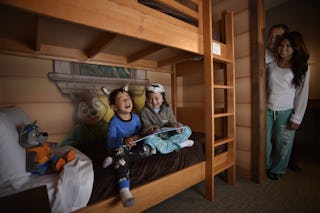 Great Wolf Lodge
Equal parts hotel, waterpark, and arcade, the Great Wolf Lodge is no ordinary place to stay the night. Not quite an amusement park, but with definite amusement park vibes, it's a self-contained experience at a fraction of what it would cost to hit Disneyland. With nineteen locations in the US (and one in Canada)—plus three more on the way—the chances are you are within a short drive of a Great Wolf Lodge.
I live in Minnesota and have visited our location multiple times over the last six years, starting when my son was just six and branching into the tween years. Here's my advice on how to make the most of your visit.
Don't Even Bother Leaving the Hotel
The Great Wolf Lodge is not simply a hotel, so don't plan on trying to squeeze in a bunch of local sights and then crashing into your room. That would be a waste of the beauty that is GWL. Instead, plan on waking up early, hanging out with costumed characters over breakfast, heading to the waterpark for hours, and stopping off to do a craft on your way back to the room to shower before you hit the arcade and grab dinner, all the while waving your MagiQuest wands like maniacs. The only exception to this is leaving to get coffee (and maybe food).
While the exact offerings vary from location to location, there are certain perks every Great Wolf Lodge has in common. There are daily schedules that include free story times, dance parties, crafts, and activities. They all feature the Northern Lights Arcade, Oliver's Mining Company (where the kids can "mine" for gemstones), Howler's Peak Ropes Course, and MagiQuest — an interactive game that takes you all over the property on a quest to battle dark forces. Some locations also have Ten Paw Bowling, Howl in One Mini Golf, and a Build-A-Bear, where you can make the characters of the Great Wolf Pack.
You can purchase a pass that includes the major attractions on site. There's no discount for advance purchase, so for your first time, just decide once you've looked around if you want to do all the things or if the waterpark and included activities are enough.
Take Your Time At The Waterpark
While Great Wolf Lodge has a lot on offer, the waterpark is one of the biggest draws, with a lazy river, daredevil slides, a wave pool, and a splash pad for littles. Your stay will include access to the water park for the entire day, including the day you check out. Clear out of your room, then head back in, stash your purse and dry clothes in an onsite locker, and hit the slides a few more times before you head out/fool yourself into thinking you'll finish the MagiQuest level you started two days ago.
I touched base with Angela Reed, the General Manager of Great Wolf Lodge, Minnesota, to ask her for a few other insider tips on making the most of the many waterpark features. Here's what she said:
If you're staying overnight, you can access the waterpark as early as 1 p.m. on the day of check-in. (Check-in is 4 p.m.).
You can get a waterpark day pass without staying overnight: Full Day Passes from open to close and Half Day Passes from 4 p.m. to close. A great option for parents who aren't sure they want to stay the night.
Consider booking a cabana in the waterpark, offering a private home base for your family inside the park to meet, eat, and rest up in between all the splashing and sliding excitement. It comes with seating, towels, and many other amenities.
Great Wolf Lodge provides life jackets and towels for any guest to use, so no need to bring any from home.
Reed also suggested that parents download the Great Wolf Lodge app to access early check-in, beat lines, and update reservation info right from their smartphones.
Food At The Lodge
There are several restaurants onsite at all the Great Wolf Lodge locations. The only real issue I've ever had with the food is that it can add up after an entire weekend of eating out. I highly recommend buying a food package. These can only be purchased in advance, but they give you a little more bang for your buck. For example, at Great Wolf Lodge Minnesota, the Platinum Dining Deal gives you $150 in dining credit for $120. (Prices for the deals vary by location.) The credit can be used at any food outlet in the GWL.
For a family of four, I can confidently say you will have no problem using the credit if you stay a few nights. If it's your first time, I also suggest arranging for the Wolf Wakeup Breakfast at least once during your stay (you need to book this before your arrival). Kids get to eat breakfast with costumed characters, making for great photo ops.
Also: BYOS (Bring Your Own Snacks)
The first time we went to Great Wolf Lodge, we passed a dad in the lobby greeting a Domino's delivery driver. Genius. Depending on the length of your stay, a good plan is to eat at least two of your main meals each day at one of the onsite restaurants and then supplement with snacks or outside food.
Make a Costco trip for a case of water, protein bars, fruit, etc. The rooms have mini-fridges and microwaves, so consider something easy like bagels and cream cheese or bread and pre-sliced cheese to make quick sandwiches when everyone is starving. When you check in at the Great Wolf Lodge, you will see families in the elevator with what looks like crates and crates of food. These are the parents that have been there before. Learn from them.
A word of caution to coffee drinkers: Other than the in-room coffee makers, Dunkin Donuts is the only coffee shop at Great Wolf Lodge. Dunkin has decent coffee, but I'm a very particular coffee drinker. If you are addicted to a Starbucks frappe or just like a certain roast, it's probably worth your time to scope what coffee shops are nearby.
MagiQuest: It's Going To Be OK
Come Sunday, you will start to recognize what I like to call the MagiQuest Shuffle: glazed-eyed parents following, zombie-like, behind their children as they zig-zag across the lobby, gleefully aiming wands at every object within a two-foot radius. Hear me now: It's OK not to finish the Quest.
Apart from the waterpark, MagiQuest is one of the coolest things about the Great Wolf Lodge. It's an interactive game that takes place throughout the property. You purchase a customizable wand at the MagiQuest storefront (onsite), where you can also nab some medieval-inspired garb like cloaks, fairy wings, and swords. The great news is, once you pay for the wand, you can use it again every time you visit—you pay a reactivation fee to start your quest and/or pick up where you left off.
Your wand is not only the key to battle at different stations throughout the hotel but also to unlock an interactive experience during your stay. Aim wands at inanimate objects, and they come to life: paintings, glass-encased gems, and other décor will light up and move. At the Great Wolf Lodge Minnesota, the bear's head mounted high on the wall starts to talk when you "zap" it with a wand.
Every Great Wolf Lodge has a slightly different setup for these interactive elements, making each one unique. But here's the thing: You will very likely not complete the entire quest on your first trip. Unless your kids don't like to swim or sleep, you might not even complete the first level.
By the end of the weekend, you will recognize the other determined families, crossing paths with them and making desperate eye contact. Are we there yet? Honestly, they need to sell parents a t-shirt that says, "I survived MagiQuest." Hold tight those wands, make promises to complete the game "another time," and leave while you can.
What to Pack and What to Leave at Home
No survival guide is complete without a few packing tips. I won't bother listing all the ordinary things like toothbrushes and clean underwear, but here are a few specific things not to leave behind:
Swimsuits: Pack more than one swimsuit per person because everyone will be in and out of the water frequently.
Goggles: Kid preference, of course, but there's a lot of splashing happening, so your kids might want something to protect their eyes.
Water shoes/waterproof shoes: Have something you can either wear in the water or, at minimum, wear between the waterpark and your hotel room. A slip-on Croc or flip-flops work fine.
Comfortable walking shoes: Trust me, you do not want to even attempt to do MagiQuest in those flip-flops. Bring sneakers.
Snacks: Bring more than you think you need. I always just buy stuff I will pack in lunches anyway in case, somehow, we miraculously don't eat it all.
Cozy, cute pajamas: The Great Wolf Lodge has all kinds of entertainment for kids, including morning yoga in the lobby and bedtime stories. The schedule and activities change daily and by season, but attending in your pajamas is 100% encouraged.
Leave these things at home:
Water wings, flotation devices, and towels: The GWL provides these for all guests.
Uncomfortable shoes: This is not the time to debut your new wedge sandals.
Excess games, books, or other in-room entertainment: Between the waterpark, MagiQuest, the arcade, bowling, midday dance parties, and late-night story times, by the time your kids get back to the room, they will be exhausted. We never travel anywhere without a good book — even if we barely have time or energy to read.
When to Visit
We've been to the Great Wolf Lodge during several seasonal events. In my opinion, their Howl-O-Ween is one of the best seasonal celebrations. From Sept. 29 through Oct. 31, the entire hotel has fall-themed décor, attractions, a Trick-or-Treat Trail, a Monster Bash Dance Party (costumes encouraged), along with other activities like face painting and story times. Other themes include Snowland, Spring Breakout, and Summer Camp-In.
Maybe it's because of all the daily action, but my family always sleeps soundly when we stay there. Although there are literally children running around every floor, it's never been loud, and the rooms are clean, adorably Great Wolf Lodge-themed, and comfortable. So, believe it or not, it feels like a vacation for parents, too. Just be prepared to get your steps in.