Infertility Took A Brutal Toll On Me, But Here's What I've Learned
I have a reverence for how it shaped me as a person and, eventually, as a mother.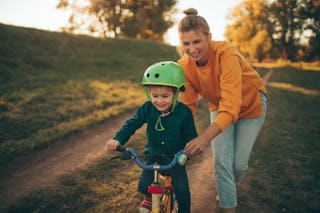 AleksandarNakic/E+/Getty Images
I've wavered on many things in my life, but one thing has always remained constant: I knew I wanted to be a mom. "You're young and healthy, you should have no trouble getting pregnant," my OBGYN told me when I informed her I wanted to start trying at age 27.
Well, she was very, very wrong.
After two tedious years of unsuccessfully trying to get pregnant naturally, I was diagnosed with unexplained infertility and began a long and grueling journey that included multiple failed cycles of fertility treatments, two heartbreaking miscarriages, and a seemingly bottomless pit of pain and disappointment. Infertility is a formidable opponent, and the brutal toll it took on me was excruciating.
But finally I got pregnant and on a beautiful January day delivered a baby, and my heart exploded. Then, a mere nine months later, in a baffling and unexpected turn of events that I certainly never saw coming, I turned into the person I envied, the one who could get pregnant practically by sneezing. After my first child, I got pregnant again — and then again — in rapid succession. I found myself with three kids under four. All boys. Talk about a surprise twist.
I despise the cliche that you should be grateful for the bad things in your life. Am I thankful for the infertility that plagued me, drained our bank account, and almost caused a permanent rift between me and my husband? No. Absolutely not. But I do have a reverence for the lessons it taught me and how it shaped me as a person and, eventually, as a mother. Along with the misery, there have also been truly remarkable parts that left an indelible mark on me.
For one thing, I became close with people I'd never have met otherwise whom I connected with online and through various support groups. I've forged deep friendships with some fellow infertility warriors and we are still in touch to this day. There is nothing like talking openly about your most heart-wrenching moments with someone to elevate your relationship to a whole new level. The comradery I feel with these folks is special because you truly cannot understand how horrific infertility is unless you've personally experienced it. Sometimes, you just need to talk to somebody who truly gets it, who has walked the same hard path. I am also able to support and encourage those just starting their journeys.
I also have an immense amount of gratitude for my three kids. I constantly look at them in utter shock and awe for how things turned out. When something seemingly mundane happens, it feels monumental to me in a way that it might not have had I not been through hell and back trying to become a mom. My son scored a touchdown the other day, and by my reaction, you'd have thought I won the lottery. "Calm down, it's not that exciting," one of the other moms said to me. But for me, it was. Moments that like that feel so extraordinary because I truly thought I'd never get to bear witness to my own kid playing sports. Even seemingly banal things feel exciting and special (hello carpool!) to me.
My journey took years and was full of ups and downs and staying the course was agonizing. I had to deploy patience, which felt impossible most days. Whether it's riding out a toddler tantrum, or waiting for an exhausting phase to pass, that same patience is certainly a virtue that has come in handy parenting small children.
Throughout the highs and lows of a fertility cycle, I was pushed to examine my long term goals and be introspective with my own thoughts and feelings to gain some perspective, and try to see the big picture instead of just an immediate setback. This has served me well as I do my best to cherish the trials and victories of raising these kids. I use the same mantra: It's a marathon, not a sprint.
Experiencing the harrowing toll of infertility and then later the shocking revelation that I could become pregnant so easily was a roller coaster of emotions. Relinquishing control over my own destiny was a hard lesson, but it prepared me well for the lack of control that raising small humans entails. And it brought out a resiliency in me that I didn't know I had, and taught me how much I'm truly capable of physically, mentally, and emotionally.
All of it, the devastation and the triumphs equally, got me to where I am today, and these experiences will always be a part of me; they are forever woven into the tapestry of my life. For better or worse, it was that very rubble that paved the road which led me to these three little faces that I cherish more than anything in the world. They are my heart, my whole heart.
Christina Crawford is a Dallas-based writer, guacamole enthusiast, and mom to three feral little boys. She spends her days putting out fires (actual and metaphorical) and trying to keep goldfish alive. Her words have appeared in Newsweek, HuffPost, Health Magazine, Parents, Scary Mommy, Today Show Parents, and more. You can follow along on Twitter where she writes (questionably) funny anecdotes about her life at @Xtina_Crawford