Press Secretary Jen Psaki Is An Absolute Badass — 10 Of Our Favorite Moments
by Amber Leventry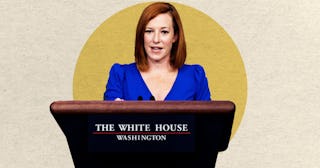 Scary Mommy and Michael Brochstein/SOPA Images/Shutterstock
Chris Wallace, Fox News host and former White House correspondent recently called Press Secretary Jen Psaki "one of the best press secretaries ever," and I couldn't agree with this statement more. At first, I was just relieved to have someone represent the White House who could logically string a few sentences together. But Psaki also makes sense and sticks to points that are relevant to the topic at hand, and she does it will no nonsense authority that makes her even more of a badass. Jen Psaki is fucking goals when it comes to owning a room and shutting up idiots while delivering facts. Here are some of my favorite Jen Psaki moments.
She sees you and raises you.
Psaki is wicked smart and observant AF. She knows what her critics say about her and anticipates what opponents to Biden's plans will say; she anticipates the questions they will ask as a way to show their disagreement. This means she'll call out any elephants in the room like she did during this press conference in response to conservatives on Twitter not liking that sometimes she puts off questions by letting folks know she'll have to "circle back."
She defends parental leave.
Folks got real worked up when Pete Buttigieg took time off to be with his partner and newborn twins, and when a reporter questioned his responsibility and work ethic, Psaki wasn't having it.
"I think what you're getting at here is this question about whether men, parents, women should have paternity and maternity leave and the answer is absolutely yes. In our view that is the policy of the administration, that is what we're pressing to make law."
She doesn't care about your fake outrage and frail excuses.
Peter Doocy seems to be Jen Psaki's biggest pain in the ass, but each time he lobs a weak argument or anecdotal evidence, she knocks it out of the park. When Doocy tried to claim that military and law officers would walk off of the job and thus make our country less safe if forced to get a COVID vaccine, Psaki pointed out the biggest threat to their—and our—safety right now.
"What was the number one cause of death among police officers last year, do you know? COVID-19."
That smirk should hurt him if the facts don't.
She believes in science and trusts the scientists and doctors trying to keep us safe.
I could write books on the ways in which Florida governor Ron DeSantis is a piece of trash, but I don't have the time and few people would listen to me. Instead, I live vicariously through public figures like Psaki who can succinctly do it for me. Based on DeSantis' threats to cut funding to schools if mask mandates were put in place, Peter Doocy asked if parents should be able to opt out of school's mandates, Psaki reminded people who we should be listening to.
"As a parent myself of two young children I want public health officials to make decisions about how to keep my kids safe not politicians. And not only is Governor DeSantis not abiding by public health decisions, he's fundraising off of this."
She's not fucking around when it comes to abortion and reproductive rights.
When a reporter asked how Biden can support a person's right to an abortion while declaring his strong Catholic faith, Jen Psaki reminded him that Biden believes "it's a woman's right, it's a woman's body, it's her choice." When he continued to argue, she firmly reminded the reporter that he will never be in a position to be pregnant or to be faced with such a decision.
"I know you've never faced those choices nor have you ever been pregnant. But for women out there who have faced those choices, this is an incredibly difficult thing and the president believes their rights should be respected." She then ignored him and moved on to someone else.
She knows Trump is a joke.
It seems like Psaki was trying not to laugh out loud when a reporter mentioned that Trump said the Biden administration needs to end the "border nightmare." She and anyone with a decent bone in their body knows Trump is the last person who understands what immigrants need.
"We don't take our advice or council from former President Trump on immigration policy which was not only inhumane, but ineffective."
She's not a TERF
Jen Psaki and the Biden administration believe transwomen are women and transgender girls should be playing sports according to their gender identity. Reporters continually try to bring up the "fair playing field" debate when it comes to transgender girls in high school sports and Psaki repeatedly declares Biden's stance and support on this.
"The president's belief is that trans rights are human rights."
Every press conference is a lesson in how to stay cool and collected while under fire. Psaki's ability to recall facts and information is impressive, but her well-played facial expressions and the way she talks to some reporters like they are tantruming toddlers is just as good. Jen Psaki is a boss.