Jennifer Aniston Opens Up About How Over-Exercising Hurt Her Body
"I just burnt out and broke my body," the star said about her old exercise routines.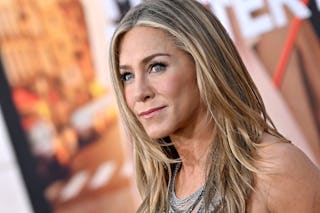 Axelle/Bauer-Griffin/FilmMagic/Getty Images
Jennifer Aniston was the "it" girl of the 90s (she continues, obviously, to be awesome). The 90s were also a time when toxic diet and exercise cultures had a firm, negative grasp on women. Suddenly, it seemed, starving ourselves was not enough to change our bodies — we were also asked to tone, firm, and shrink our bodies through movement.
Aniston knows this all too well, because now she's opening up about how she was very much caught up in it, just like everybody else. This week she's been detailing just how much she overdid exercise in her 20s, 30s, and 40s, as well as what a terrible impact it's had on her mentally and physically.
Her takeaway? Women should be working out smarter, not harder. And doing something as hard as you can until you burn out isn't healthy, ever.
First, she opened up to Vogue about how she had to "retain her brain" from all of the 90s overexercising programming.
"It used to be pounding, pounding, pounding. You had to get 45 minutes to an hour of cardio; otherwise, you weren't getting a workout," she said of her old ways. "Not only do you stress your body, you burn out — who wants to do that at all?"
She shared that things really changed for her when she suffered a serious back injury in 2021 — a wakeup call that she wasn't treating her body right. She talked more about her relationship to exercise in InStyle.
"My physical therapist gave me a Barbie doll that's covered in Kinesio tape," she said, "to show every injury I've had in the last 15 years."
Now, her new philosophy is lower-impact workouts that energize her instead of wear her out, social exercising with friends, and no more repetitive, punishing activities. A new partnership with woman-led exercise company Pvolve also stresses everything that she's learned the hard way about exercise and keeping her body healthy.
"I much prefer working out with friends," she said. "Doing your own workout by yourself, meh. If you get some good music going you can have fun, but I like to be guided. It's too easy for me to do things less correctly than I should."
Aniston also spoke about one of the worst comments for older women — you look great for your age — and how she actually feels better now then she did when she was younger and not treating herself as well.
"It drives me bananas, I can't stand it," she told Vogue. "That's a habit of society that we have these markers like, 'Well, you're at that stage, so for your age… I don't even understand what it means. I'm in better shape than I was in my 20s. I feel better in mind, body, and spirit. It's all 100% better."