As A Black Woman, This Is What Kamala Harris Means To Me
by Sa'iyda Shabazz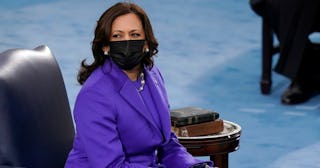 Drew Angerer/Getty Images News
When I heard Kamala Harris say those words, something swelled in my heart. It was a moment I didn't know I needed. We did it. And while I know she was talking to Joe Biden about winning the election, it felt like she was talking to me too. We did it.
We, as in Black women. Kamala Devi Harris is the first Black woman to be Vice President of the United States. She is also the first woman of Indian descent to hold the position. It's a moment I didn't know if I'd see while I was still young enough to appreciate it. But it happened. This morning, I sat in bed and watched as a Black woman was sworn in by another woman of color, Justice Sonia Sotomayor. As soon as she began taking the oath, I started to cry. We did it.
As a Black woman in America, I am well aware of the burden we carry. From the inception of this country, we have been the least respected and most overworked. But in spite of it all, we continue to persevere and strive for greatness. And let me tell you, it's never an easy thing to do. But we know that when one of us prospers, we all prosper. So if that means that we continue to push ourselves against impossible odds, that's what we're going to do. Kamala Harris is the culmination of many years of perseverance. She is a reminder that we've come so far. But she is also a reminder that there is still so much more we have to do.
Kamala Harris is the dream of every Black woman who's come before her. As slaves worked the fields, cooked the meals and tended to the babies of their owners, they dreamed of something more. For a life that had meaning. They dreamed of having a legacy in this country that was more than where they were in that moment. As Black women marched behind white women, they spoke out about the horrors they faced, and they were silenced. But still, they dreamed of a world where they could be equals. And as they finally took their place, stepping into the spotlight, they still dreamed bigger. Kamala stands on the shoulders of women like Ida B. Wells, Fannie Lou Hamer, and Shirley Chisolm. Women like Maya Angelou, Alice Walker and Toni Morrison. She is the dream that for so long was deferred. The dream that is beginning to become reality.
I knew that watching Kamala Harris be sworn in as vice president was going to mean a lot to me. But I didn't realize just how much. When she put her hand on that Bible, I felt all the emotions bubble up inside me. We did it. The tears welled up in my eyes before she even said the first word. Because I knew what was happening. That with those words, she was showing the world what Black women are capable of. We are more than people imagine we can be.
Black women are the backbone of this country, and now we have someone to point to and say, "look at what we can do." We are more than your mammy, your punching bag, the person you overlook and step over on your way to the top. Black women are a formidable force, and it's about damn time people take notice.
When I see Kamala Harris take the podium, I see all the Black women I know and love. I see my mother, my grandmother, my aunts and cousins. In her I see myself and my sisters, my friends, women fighting for our rightful place in this world. But in her I also see my nieces, the daughters of my friends, and all the other little Black girls in this country. The girls who have yet to figure out their place in this world, but now know that there is no limit to what they can do. I hope they see her and say, "Because of her, I know I can too."
The best thing is that Kamala Harris is so aware of what she represents. You can see the sparkle in her eye, that way she says, "I see you Sis. This is for you." As she stood in front of Justice Sotomayor, with her husband Doug by her side, I could feel it radiating off her. That love she has for all the women who paved the way for her. Her peers who are holding her up, cheering her on. For those of us who are deep in the trenches of a country that doesn't respect us. And for those little girls, the ones who see her and know what is possible. She is all of our dreams. And those dreams no longer have to wait.
We did it.