The Best Kids Cookbooks For Your Mini Foodie
by Laura Hennigan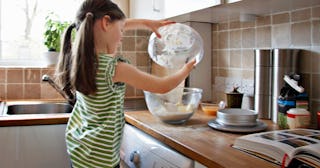 Getty Images/Luxx Images
We may receive a portion of sales if you purchase a product through a link in this article.
The best cookbooks for kids are the ones that will inspire a love of food from a young age. From learning meal prep skills to trying new flavors, kid-oriented cookbooks encourage littles to feel comfortable in the kitchen.
Having a kiddo who is a picky eater isn't uncommon, and it often makes mealtimes a challenge. Engaging them in the process of choosing a menu, chopping ingredients, and prepping a few dishes will give them an appreciation for what it takes to prepare dinner for a family. They are also much more likely to eat the meals that they had a hand in planning and creating.
RELATED: Kids' Baking Sets For The Aspiring Baker Or Chef In Your Fam
Food journalist and restaurant critic Joshua David Stein is not just a food book author, but also a father of two. He encourages parents to get kids involved in the kitchen as much as possible. "Having a child perform various appropriate tasks as part of mise en place encourages buy-in, I've found. Depending on the age, these can involve supervised knife skills or, for instance, mixing, stirring, kneading, etc…but not every meal needs to be a lesson," Stein says. "Sometimes just a good dinner (or breakfast, lunch, snack, or treat) is enough."
Stein also has advice for picky eaters, saying, "There aren't any hard and fast rules, I've found. In some family dynamics, strict rules such as a two-bits minimum work. In others, the less pressure the better. What has worked for me as a father is a middle ground. I won't force my son to eat anything but I typically don't offer alternatives."
RELATED: 18 Super Yummy Lunch Recipes For Kids
So the next time you're meal planning or starting to prep dinner, invite your kids to join in and help! Yes, they will probably still balk at broccoli and complain about clean-up, but stick with it, friends. Eventually, you may end up with a mini foodie who orders escargot, watches Top Chef with you, and schools their siblings on proper knife techniques.
As a first step, check out the best kids' cookbooks below!
Best Cookbooks for Kids
Best Kid Cookbook Recipes
Best Kid-Friendly Cookbooks
Best Kids First Cookbook
This article was originally published on