PSA: Your Library Card Lets You Stream Thousands Of Movies & TV Shows For Free
No monthly subscription fees here.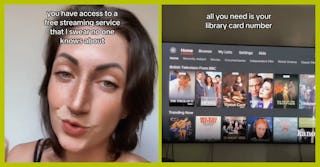 @lorraine..fisher/TikTok
Before streaming, there was Blu-Ray, and before Blu-Ray, there were DVDs and VHS. And back in the days of our childhood, a free Blockbuster card and a couple of bucks was all it took to rent your favorite movies and watch 'em again and again. While streaming services should have made it easier than ever to access your favorite content, it turns out that it actually made it harder. Nothing stays in one place anymore. After months or years of paying for Netflix so you can watch and re-watch (and re-re-watch) your favorite show, it moves to Peacock or Hulu. Suddenly you find yourself paying for a service you don't use and giving all your information to yet another company. It's confusing and frustrating, but it doesn't have to be this way. If you already have a library card, you can change your streaming luck immediately.
Granted, you'll need one with another app — but this one won't cost you.
"If you live in an area near a library and it's easy for you to get a library card, you have access to a free streaming service that I swear no one knows about with hundreds, maybe thousands, of movies and TV shows you can watch for free... just because you have a library card," TikTok user Lorraine Fisher shares.
The app is called Kanopy, and it's available on most smart devices. All you need is your library card number to log in. If you're one of those super tech-savvy people who does everything on their phone, you can probably find your card number in your library's app. In other words, you don't even have to get off the couch to find your wallet.
This, of course, is in addition to the DVDs and other media that many libraries still have in-house for patrons to borrow and return. From watching Ramona with your favorite third grader to deep diving into Twelve Angry Men, there's nothing you can't do with a screen and your library card. Want to see if you really missed out by not buying Folklore? Your library probably has it on CD. (Because some of us still like listening to CDs more than streaming.) Need some classical music to help your teen focus on their math homework? Hi. Go to the library.
Kanopy isn't just another free streaming service with films no one cares about, either. It has a solid selection for everyone in the family. For your littles, you'll be pumped to find The Adventures of Paddington Bear and Gecko's Garage. On Netflix and chill nights, you can find solid cinematic hits like Lady Bird and Into The Wild. Whatever you're into or however the mood hits, there's probably something on Kanopy to pique your interest... for free. There's even access to language learning curricula for nights when you just can't sleep without learning the Italian word for kiss. (It's bacio, BTW.)
Here's a list of some of the excellent Kanopy kids' content to help you get through until nap time. Because, sweet Jesus, how is it only 10 a.m.?!
Babar
Don't Let the Pigeon Drive the Bus
Is Your Mama a Llama?
Miffy
Super Why!
Alma's Way
Franklin and Friends
Maurice Sendak's Seven Little Monsters
Little Bear
Sesame Street
Strawberry Shortcake
Punky
Blippi
The Busy World of Richard Scarry
Reading Rainbow
Goodnight, Goodnight, Construction Site
Molly of Denali
Arthur
The Wubbulous World of Dr. Seuss
As a bonus, you'll be able to turn your kids loose on the app without worrying about them accidentally running into any creepy fan fiction of their favorite kid shows. What more could a modern mama ask for? (Wine. She could ask for wine.)