This Mom Had The Perfect Response When Her Neighbor Asked Her To Take Down Her Halloween Decorations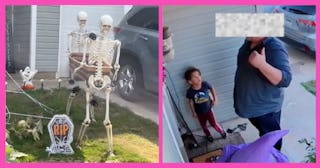 TikTok/@thatsnorthsense
To many people, and especially to Scary Mommies, Halloween is one of the most fun holidays of the year. There's no huge meal to prepare, there's no gathering of extended family — it's just fun, dress-up, candy, and all of the morbid decorations that your heart desires. In other words, giving up the fun would be really, really hard to do for any Spooky Season enthusiast.
But that's exactly what one mom did this year. After putting her heart and soul (and what looks like a pretty significant amount of money) into her Halloween yard decorations, South Carolina mom of four (with one on the way) Salena Webb (you guys, her last name is even Webb!) made the rough decision to take it all down for a neighbor.
Webb shared the security footage of the encounter on TikTok, where it quickly went viral, amassing over a million views and thousands of comments.
"Today my neighbor came by and asked me to take down my Halloween decorations," the text overlay reads, with a distressed emoji.
"Hey, um, I know you're celebrating Halloween and all that stuff," the neighbor begins, super awkwardly. "[My dad] just got diagnosed with lung cancer the other day. And you know, the thing is just kind of scary. You might think of just taking the casket out?"
"Oh, I wasn't thinking of that," she responds. In the foreground, you can see just a few of her amazing Halloween decorations, including two skeletons covered in spiders carrying a casket.
"I'm just trying to direct him to different thoughts — not thinking about it," the man stumbles on, visibly embarrassed he has to ask.
"We took it down because kindness is free," the video concludes.
Down in the comments, most people had love for everyone in the situation.
"He was so gentle about it and that was incredibly compassionate of you," one person wrote.
"Exactly," Webb wrote. "He didn't come over aggressive because he knew it's my house and was looking for me to have compassion and that's exactly what I gave them."
"This is how neighbors should be," another put simply.
Webb told Insider that the elderly Russian couple lives across the street — and that the two families had exchanged vegetables and toys for grandchildren in the past even though their English isn't great. At first, when their son stopped by, she didn't understand what the issue was. But then it became clear that her decorations, which had been up since September, could be a source of trauma.
"I am a constant reminder of what could possibly happen if he does not kick cancer's ass," she told Insider, "and I don't want to cause that stress to someone else... I'm a little sad about it, but it's not about me in this moment."
In a follow-up video, Webb showed her audience what her yard decorations looked like at the time that the neighbor stopped by. And honestly, she had for sure gone all-out, completely with skeletons carrying a casket, a full graveyard, and a fog machine that ran at night.
"So, this is what it looks like," she said. "I do have like a little graveyard, and they're carrying the casket. And the light fixture, and I made a little monster house. We're just going to remove that. We already had the casket out, but I put it back real quick so you guys could see. I do get it. I understand. It's literally right across the street and he can look right into it. So, I get it. But I love this thing, unfortunately. I'll probably just stick it out in the backyard."
She shared in a third video that she didn't just remove the casket. She also relocated the whole graveyard scene to her backyard so that her neighbor didn't have to look at any death-related imagery. And as for the skeletons? They're now holding badminton rackets.
"When my neighbor asked me to just remove the casket," she wrote in a text overlay, "But you care about your neighbor and their mental health, so you relocate the whole graveyard scene to your backyard."
She also writes in the caption, "Kindness is free but some of you can't even afford that. What happened to loving your neighbor? It's a simple request to give your neighbor a little peace of mind during such a hard time."
"As someone who received a terrifying cancer diagnosis and had all those same scary thoughts, thank you for treating that family with kindness," one person wrote in the comments.
As Webb wrote in the comments, there's "always next year." And she also, according to Insider, dropped off a card and balloons for her sick neighbor.
Now that's the Halloween spirit.