there's nothing we can do
Women Commiserate On TikTok About The Ongoing Struggle Of 'Man Eyes'
Sadly, it's an incurable disease.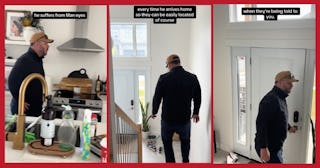 @auntie.pretty/TikTok
Okay, no one wants to be sexist. But sometimes — sometimes — it feels like maybe one gender has a certain struggle not experienced by the other gender to the same extend. A perfect example? This week on TikTok, Auntie Pretty released a hilarious PSA-style video about a terrible scourge upon the land: the disease of Man Eyes.
"This is a man," the video's narration begins. "And like many men around the world, he suffers from Man Eyes."
What is Man Eyes? She quickly explains the phenomenon.
"Man Eyes is the incurable disease when men can't find items that are in plain sight," she continues. "Sure, would it be easier to put his keys and wallet in the same place every time he arrives home so that they can be easily located? Of course. But with man eyes, it's hard to see even the easiest solutions when they're being told to you."
The real kicker? In the background, "Angel" by Sarah McLachlan is forlornly playing in the background. Perfection.
"Man Eyes are a real, but a f-ing annoying, thing," the captions reads, before savagely tagging her partner.
And the comments are incredibly hilarious, too.
"Don't forget that Man Eyes also makes them unable to see messes and clutter that needs to be picked up," one wrote.
"I wish more people talked about this," another deadpanned. "My husband was diagnosed with Man Eyes at just 3 years old. He's still looking for a toy truck he lost in '89."
"The song is giving. 'For 99 cents a day, you can help a man find his keys and wallet with ease,'" another wrote.
"All three of my children, even the girls, inherited their father's man eyes," one mom wrote.
A day later, Auntie Pretty updated with an exciting new update about Man Eyes: there's kind of a cure! Sort of!
"By now, you've probably heard of the epidemic affecting households across the world called Man Eyes," the video begins. "Man Eyes is the incurable disease that all men live with, whether they can admit it or not. But thanks to new research and a TikTok's comment section, there is a cure: Let Him Look."
What is this amazing cure?
"With Let Him Look, partners can get back to what is important to them," the video continues. "Drinking their coffee in peace. Playing with their dog. Or watching TikTok about Taylor Swift and Travis Kelce. With Let Him Look, get back to enjoying your life and ignoring the disease that has plagued this world for centuries. Let Him Look can help with things like finding the Ketchup in the fridge or locating his keys and wallet."
Of course, there are a few warnings, too.
"Let Him Look does not help with Man Eyes symptoms like ignoring dirty dishes or household messes," the video explains. "Please consult a girlfriend before using Let Him Look as it could result in figuring out that your partner is an idiot, and it may cause the ick."
And then the perfect tagline: "Let Him Look. Because, girl, you don't have to."
True! And it's so important to remember. That goes for Kid Eyes, too.