Looking For A Way To Keep In Touch With Your BFFs? Marco Polo Is Better Than Texting
by Annie Reneau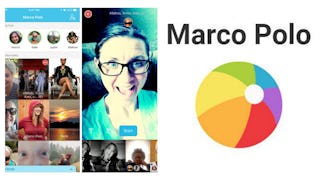 Annie Gregory Reneau (left photo) / itunes.apple.com (right photo)
If you have friends scattered all over the country like I do, you know what a challenge it can be to stay in touch. It's not that you don't want to communicate with your friends on the regular, it's just that kid schedules and work schedules and all of the unscheduled chaos of life with children makes coordinating phone calls or chats with mom friends darn near impossible.
You can always text, of course. Except you can't always text. Sometimes when you think about texting, your hands are full or you're doing something else. Sometimes you want to say more than what will fit in a text message without getting cumbersome.
What you really want is to be able to see your friends' faces and hear their voices without having to figure out a time for a phone call or a FaceTime or Skype chat (which will probably be interrupted by your offspring anyway).
Enter Marco Polo, the video app that has revolutionized my and my friends' long-distance communication. Created by a company called Joya Communications, its mission is "to help people feel close no matter the distance, enabling people to remain connected in convenient and meaningful ways."
Marco Polo refers to itself as a "video walkie-talkie" app, but I prefer to think of it as video texts. My BFF who lives 1,500 miles away convinced me to get on it, and now it's the way we communicate 90% of the time.
She told me I'd love it, and she was right.
It's such a simple concept. I didn't think it sounded that great at first. To use it, you choose a friend who is also on Marco Polo, then click "Start" and start talking into your camera. When you're done, you click "Stop," and that's it.
The app automatically sends your video to your friend just a few seconds after you start it, so you can almost have a real-time conversation if you're both on at the same time.
But the beauty of it is that you don't have to be on it at the same time. You can send and watch your videos whenever you want.
Marco Polo archives your video messages, so you have a running record of your conversation (unlike Snapchat, which deletes videos after a short while). And here's the best part: You can have group video chats with it. Right now, I have a conversation going with a group of five of my girlfriends from college who all live in different parts of the country now. We'd never in a million years be able to coordinate a regular live group video chat, so this setup solves that problem.
Our videos go to the whole group, and it's the closest we can get to hanging out in our dorm room together without actually being in the same physical space. So much fun.
For those of us who hate to talk on the phone, Marco Polo lets us hear our friends' voices without the dreaded phone call. And unlike FaceTime or Skype, you don't have to be on at the same time. My friends and I frequently send messages in the bathroom while we're getting ready, or while we're waiting in our car to pick up a kid, or even when we first wake up in the morning and haven't even rolled out of bed yet.
For some people, it takes some getting used to because you're talking to yourself and seeing yourself on video. I've been doing Facebook Live for my blog, so I was already accustomed to that bit of weirdness, but it really doesn't take that long to adapt to it. After a few video messages, it becomes natural. And only your friends see it, so who cares?
The app is free, so there's literally no reason not to at least try it out with a friend or two. Trust me. You won't be sorry.
This article was originally published on