Nearly 700,000 Oball Rattles Are Being Recalled Due To Choking Risk
by Mike Julianelle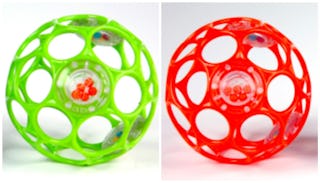 Image via CPSC
The manufacturer has received 42 complaints so far
If your baby or toddler has an Oball Rattle, you might want to take that thing out of the rotation for a while. The toy's manufacturer has recalled 680,000 units of the circular rattle due to the beads within it coming loose.
According to the Consumer Product Safety Commission, the rattles in question were sold at a wide variety of retailers and online merchants over the course January 2016 to February 2017. Stores that sold the item include Walmart, Walgreens, and Target, and popular shopping sites Amazon, Babyhaven.com, and Diapers.com.
The Kids II Oball Rattle is shaped like a ball, but with a web-like construction allowing children to easily grasp the rattle between one of the 28 small holes. Embedded within the ball are plastic discs that contain tiny beads that create the rattle noise that give the toy its name. Unfortunately, those discs are getting punctured, and the beads are escaping, and children are putting the beads in their mouths, because children.
So far, the manufacturer has received 42 complaints of the disc breaking open, two of which involved a child putting the beads in his mouth and three of which actually featured gagging. So yeah, if you have one of these things lying around, it might make sense to get it out of harm's way.
The rattles in question come in pink, blue, green, and orange, and the model number you'll want to look for is 81031, and will be printed on the inner surface of one of the plastic discs and on the packaging.
You can visit the Kids II website to verify whether or not your rattle is affected and register for a refund and return kit. Their customer service line is also open from 8am to 5pm Eastern time if you have any questions: 877-243-7314.
Hopefully Kids II will get these toys out of circulation before any more kids start chomping on those beads. As an added bonus, parents can get one more obnoxious noisemaker out of the house.
This article was originally published on