16 Affordable Finds That'll Turn Your Patio Into Your Pied-à-Terre
Accessories to make your outdoor space — however small — shine.
by Emma Coburn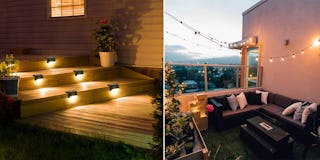 You move into a new home or apartment, spend countless hours unpacking and rearranging, and buy everything from a new couch to those multi-colored wineglasses you saw on Instagram. And then, if you're lucky enough to have an outdoor space, you remember that there's a whole other category of things you need: patio decor.
When you want to make your outdoor space as comfortable as possible without breaking the bank, these patio accessories — from cute lighting options to planters and a hammock — will come in handy. No matter how small your patio is, you'll find something on this list that can make it shine. Soon, you'll feel like you've added a whole new room to the house. Ahead, 16 affordable patio decor options to turn your outdoor space into an oasis.
We only include products that have been independently selected by Scary Mommy's editorial team. However, we may receive a portion of sales if you purchase a product through a link in this article.
It's easy to let your outdoor space become a decorative afterthought—but when you put some time into making that area comfortable, it can feel like a whole extra room. These affordable and easy patio decor options will help you make your backyard or balcony a place you're proud to show off to guests... and more importantly, happy to just hang out in by yourself.