Patio Umbrellas That Will Blow You Away (Without Blowing Away Themselves)
by Hillary Swetz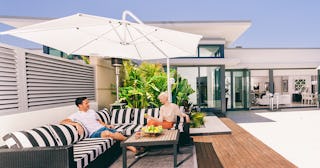 Getty Images/Image Supply
Most people don't realize it's best to buy specific patio umbrellas for wind until there's an incident. I know that was the case for me at a recent playdate. The kids were in the pool, but we moms were interrupted by not one, not two, but THREE broken umbrellas — it wasn't even that windy! (If it had been, we would have grabbed the kites, obviously.) But now I definitely know which umbrellas not to buy, and which ones just might be able to withstand a hurricane.
When you're looking for a quality patio umbrella for wind protection, there are a few key things to keep in mind. First, you'll want something that has some kind of layering or vent. Otherwise, the entire contraption becomes a giant sail and might leave you to find the lost city of Atlantis with a single gust of air.
Secondly, you'll want a patio umbrella made of a sturdy metal that attaches to a heavy-duty base. (This is the main difference between what makes a good patio umbrella and a good windproof handheld umbrella.) Some of the bases out there are glorified paperweights, which does you zero good. Look for something that's not plastic, and thicker than 20mm in diameter if it's a weaker metal like aluminum.
With that in mind, let's look at some of the best wind-resistant patio umbrellas that money (or Amazon gift cards) can buy!
Best Patio Umbrellas for Wind
Best Half Umbrellas for Balcony
"But wait!" you say, "What about people with balconies and other small spaces? We can't fit a full-sized umbrella here!" Don't worry fam, I got you covered.
This article was originally published on