The Best Dog Pool Floats For Good Buoys (And Girls)
by Jessica Booth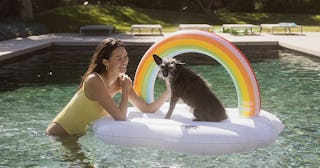 Funboy
Even if your pup isn't a huge fan of the water, they'd probably love to chill out on a dog pool float. Think about it: while you're relaxing in the pool, enjoying the warmth and the sunshine from your own float alongside friends and family…your dog is sitting on the sidelines alone. Sure, the water might seem a little scary to many dogs, but being alone? They're not a big fan of that either. They would much rather be where their family is, even if that means sitting in the water on a pool float made especially for them.
RELATED: Dog Pool Toys Exist So Your Pupper Can Live Their Best Life This Summer
Instead of letting your dog use one of your pool floats and potentially scratch or puncture it, get them a pool floatie for dogs! They're usually pretty inexpensive and are super relaxing for your pups on a hot summer day. And we all know dogs can get a little smelly when their fur gets wet, so giving them their own float is just better for everyone. Either way, it's a winning situation for pooch and parent! There are so many cute options out there too, whether you have a big dog who needs a lot of space or a small dog who just needs a little raft. Below, we've put together a list of the best pool floats for dogs that they'll love using all summer long!
Best Pool Floats For Dogs
Best Dog Rafts For Pool
Best Dog Floats For River
This article was originally published on